Gymnastics Bars can be a great addition to your home gym setup, but you need to make sure you have a set that will be suitable for your child's age and ability and fits your budget. In this article, I will run through the best bars available to buy online and highlight which features to look out for based on my 20 years of experience as a coach.
Let's get into this!
Table of Contents
When it comes to picking a gymnastics bar for home the 5-In-1 is by far and away from the best choice for sturdiness, strength and overall quality. Tumbl Trak is a very reputable manufacturer, and its products are found in many professional gym facilities worldwide.
Because this option has two bars, it gives you greater choice in how it is set up and which skills can be practiced. It can be used as:
Single High Bar
Double Bars
Or it can be used to place mats or Air Products up against it, for example, a climbing wall
It could also be used to attach Rings from the bar.
No other home practice bar that I've seen offers this much choice. Because of its ample size, more than one child can use it at the same time without colliding. The advertised max weight is 125Ibs, though some reviewers claim it will comfortably hold even more than that.
More advanced skills such as Undershoots and Circle can be practiced on the Tumble Track 5-In-1 making it suitable for advanced gymnasts putting in those extra hours of training. The adjustable knobs mean that the bar heights can be adjusted for younger children as well.
Tumbl Trak sell the 5-In-1 through both DGS and Amazon. It's worth checking both prices for special offers or discounts as this is one of the more expensive products on the market.
The FB Sport Gymnastics Bar is a close runner-up in terms of overall quality to the 5-In-1 however it comes only as one single bar as opposed to the two bars on the 5-In-1 system. If you only need the single bar at a very reasonable $300, then FB Sport could be for you.
The six-point base and rubber feet add stability but the safety feature that I really like is the double lock on the height adjuster. This gives you added protection when moving the bars up or down the 13 different height levels. If one lock fails, you have the backup of a second lock. This is a feature that I haven't seen on other home gymnastics bars.
This bar is ideal for gymnasts working between levels 1 – 4 and under 140Ibs.
We've only seen this bar sold on Amazon but not the FBSport website.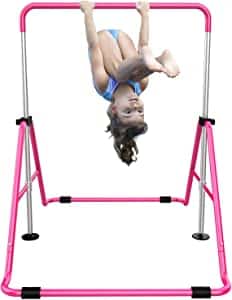 If you have a young gymnast just starting out on their gymnastics journey then this bar is for you.
As you can see, the design is different as it has rails running parallel to the bar at both the front and back. This is designed to stop the bar from toppling forwards or backward when in use. The bar itself is made from steel so differs from the wooden bar found on Uneven Bars in the gym. This makes it suitable for younger gymnasts just starting to learn gymnastics but not so great for competitive gymnasts looking to replicate the feel of a traditional bar in their own homes.
At around $100 this option for a home gymnastics bar is great if you are on a smaller budget.
Tepemcuu recommends this bar for children aged 3 to 8 years and under 150Ibs. The height of the bar can be adjusted between five different settings so there is a good amount of growth to be had with this bar. The folding design of the ground rails is super handy for storage and will mean you can pack them away more easily than other bars when not in use.
The reviews on Amazon are extremely positive, with an overall rating of 4.7 out of 5 from over 2,000 reviewers.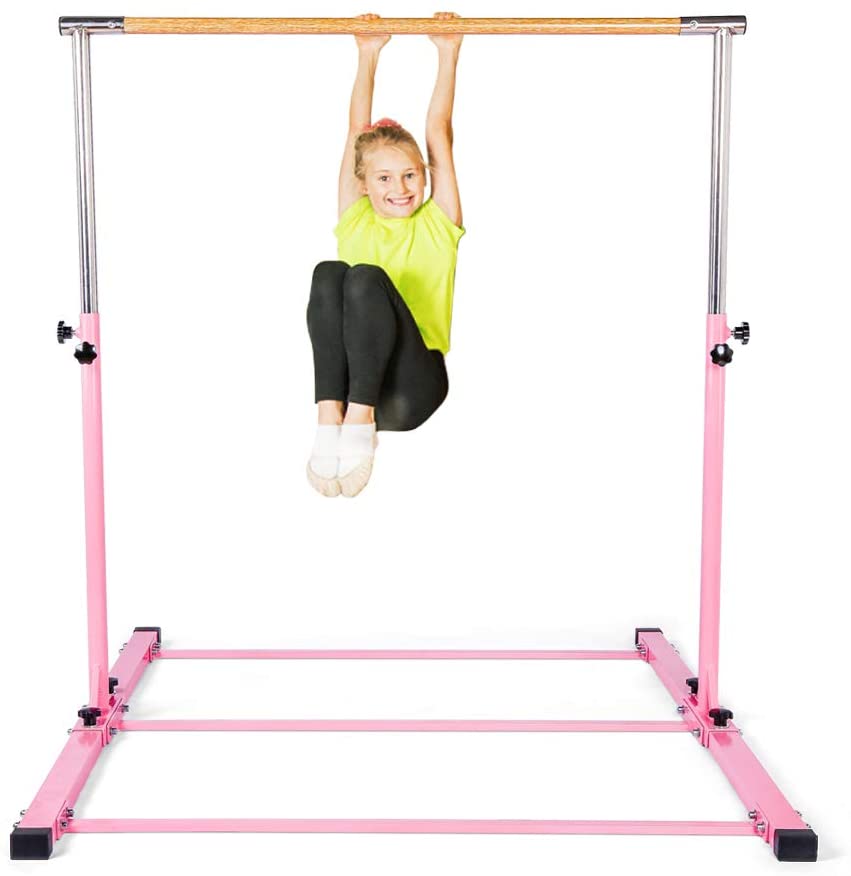 These are very popular gymnastics bars for home for older and younger gymnasts alike and is another option with super high ratings on Amazon (4.8 from over 800 reviews). There are a few different options in terms of color and design, but all fall in the range of $140-$180 on Amazon.
The standout feature of the Shiwei Bar is the fiberglass bar itself which is stronger than many of the wooden or metal alternatives on the market.
The bar will hold a massive 330Ibs in weight which is double some of its competitors!
This makes it suitable for children up to the early teens, unlike some bars which will not hold the weight of older children.
An additional crossbar frame that runs across the floor in the center adds stability and reduces wobble. A double locking system on the knobs is similar to the FB Sport bar and provides added safety.
The guys at DGS (www.gymsupply.com) have been supplying equipment since the early 90s so are very experienced at designing and manufacturing durable and sturdy equipment.
The Junior Pro Bar retails at around $600 so is not cheap, but it does provide strength and quality not found in cheaper bars.
DGS also offers several packages that include mats, pads or both. Most bars will not include a mat as standard so the combo packages offer some good savings. DGS also has an excellent reputation for great customer service.
A great alternative to buying a bar and mat separately is this combination from Z Athletic. It will probably save you a few dollars and will guarantee that you have a mat that fits perfectly with your bar.
Z Athletic offers a wide range of bar and mat colors as well as two different size options. It is reasonably sturdy for children up to and around the 10 or 11 years old age range. If you have a teenager or a more advanced gymnast then this bar isn't for you – I'd recommend FB SPort or Tumbl Trak instead.
How do I choose a gymnastics bar?
When deciding which gymnastics bars for home to purchase, these are the factors I would consider (obviously budget is important too).
Maximum load weight.
Minimum/maximum bar height.
Sturdiness/likelihood of wobble – This can be really hard to judge on photos or descriptions alone. Hopefully, this article has helped as we have only recommended bars that we know are sturdy or have multiple reviews backing that up. Heavy bars tend to be sturdy as they are less likely to tilt or topple over.
Bar material – Female gymnasts use wooden bars whereas male gymnasts use metal bars to train and compete. Fiberglass bars can work at home as they are strong. A plastic bar can be suitable for younger / beginner gymnasts but not older, more advanced ones.
Quality of the adjuster knobs – double adjusters on the height provide extra safety.
Storage – can it be stored easily? If you are lucky enough to have space to leave it set up that is ideal, but if not, a foldable bar would be better.
Final Thoughts
Gymnastics bars for home will keep your children active and motivated to practice when they're not at the gym. Be sure to check the area and ceiling height where your bar will be set up and check if your bar comes with a landing mat. Many won't and you will need to purchase one separately.
I would recommend a mat that is at least 20cm thick to protect your child from injury if they fall from the bar. My recommendations for home gymnastics mats can be found here. It will also help protect their joints when landing. Also, check out our article on the best beams for home practice.
Gymnastics Bars for Home FAQs
Can you put a gymnastics bar outside?
Check with the manufacturer's instructions carefully as most home gymnastics bars are designed for indoor use only. The metal parts will rust if left outside especially in poor weather.
If you are setting your up in the yard for one day only that would be fine. Ensure that the floor is level and stable before setting the bar up.
Do girl gymnasts do parallel bars?
No, parallel bars are competed by male gymnasts only. Girls compete on Uneven Bars which compromise two bars at different heights.
How do I make my gymnastics bar not slippery?
Bars get slippery because of sweat from gymnasts' hands. To make the bars not slippery many gymnasts will use chalk but if you don't have chalk at home use a dry towel to remove any moisture.
What are level 1 bars?
When people ask about level 1 they are usually referring to the USAG Development levels for Women's Artistic (formerly called the Junior Olympic Program).
Level 1 is the first level and is optional. Girls are expected to master:
Pullover
Cast
Back Hip Circle
Sole-Circle Dismount OR Underswing Dismount
Latest Articles: