Gymnastics mats are a great addition to your home gym setup, but gymnastics equipment isn't cheap. You will need to make sure you have a mat that will be suitable for your child's size and ability and fits your budget. In this article, I will run through the best mats available to buy online and highlight which features to look out for based on my 20 years of experience as a coach.
Let's roll into this!
Table of Contents
Dollamur Flexi-Roll mats are exactly like professional gymnastics floors as they have a carpet-covered surface. I actually use the Flexi-Roll floors in our professional gym and gymnasts absolutely love them!
Because the Flexi-Roll floors have slits in the foam they are able to roll up into a small cylindrical shape when not being used. This is ideal for home storage especially if you don't have a lot of space. The floors roll with the carpet facing up which helps prevent it from getting dirty and damaged as it is rolled up.
Flexi-Roll floors are worth the money as they are durable and will last a long time. Hundreds of people per week use our floors which are almost ten years old and still going strong (see the image below). You can find Dollamur Flexi-Roll mats on Amazon for less than $220.
The foam is even dense enough to perform more advanced skills like round-off, back handspring or back tuck and cushion the impact safely.
Another advantage is that you can use hook and loop velcro to join multiple floors together – if you have enough space you can link as many as you want together!
We Sell Mats sell a Folding Tumbling Mat which is pretty awesome. The vinyl covering makes it easy to clean and the folding panels make it easy to store.
We opted for this mat as the runner-up because the vinyl is different to the carpet surface found in a professional gym however, it may be more to your liking if you want something that easy to maintain.
There are a lot of color choices to pick from and at around $150 on Amazon its good value for money.
Thickness wise you can choose between 1.5″ and 2″. I'd recommend the 2″ as it replicates the same thickness as most gymnastic floors. I'm also a fan of the hook and loop velcro which means you can connect multiple mats together to make a larger mat.
If you're looking for a gymnastics mat on a smaller budget, the Antsy Pants Tumbling Mat could be for you. It sells for around $70 on Amazon and has the option of three different colors schemes – original, pastel and vibrant.
At 77″ in length, the mat is good for basic gymnastics skills like forward and backward roll, handstands and carthweels. Older children and teens will find that one mat is probably not long enough but as with many of the home gymnastics mats, there is hook and loop points to join them up.
The carry handles make it easy to move around when not in use.
Tumbl Trak are a trusted brand when it comes to gymnastics equipment in both the professional gyms and the home. For less than $150 you should be able to pick up the 4ft x 6ft panel mat. This would be at 1-3/8″ thickness so is more suited to being on top of a carpet rather than a hardwood surface.
If you are looking for a mat to place on harder surfaces, you should consider the 2″ thickness version as it will give more cushion. Tumbl Trak also stock folding panel mats in smaller and larger sizes and with a large range of colors.
Tumbl Trak aren't the cheapest brand but the quality is evident. For example the vinyl covering is tightly stretched making it more stable than some cheaper folding mats. You also get a 2 year warranty on the mat.
Cartwheel mats are excellent for getting the hang of the hand and feet placement in a cartwheel. The Z Athletic cartwheel mat is 1.5″ thick making it very similar in thickness to other folding mats listed in this article.
Cartwheel mats tend to be smaller and narrower than most folding panel mats. This is probably because a cartwheel is supposed to performed in a straight line. On the reverse of the Z Athletic cartwheel mat there is a straight beam line which makes this a great 2-in-1 in product. At around $70 its also cheaper than most folding gymnastics mats.
This alternative choice of gymnastics mat adds hopscotch markings on side and a long straight beam line on the other. Because it is made in the same way as other folding mats it can also be used for tumbling skills – so its a 3-in-1 mat!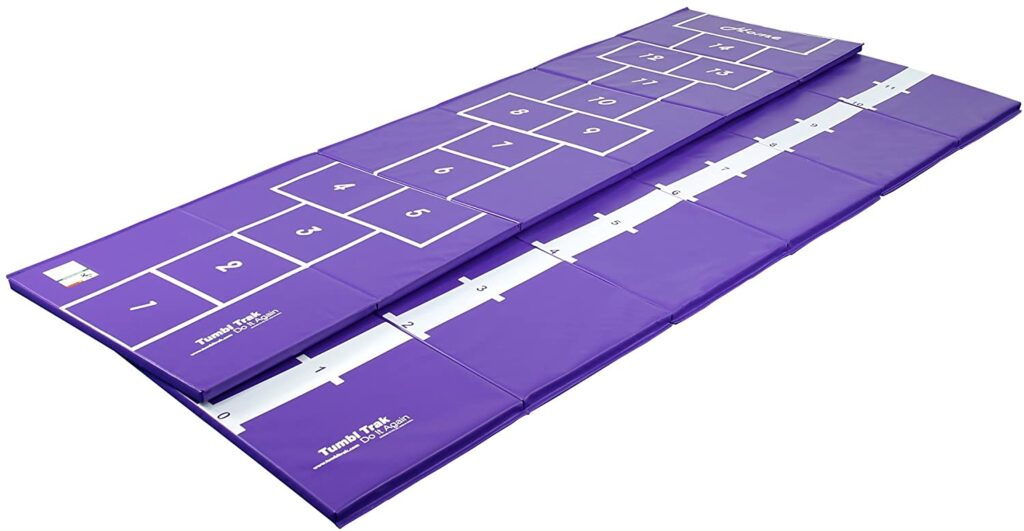 The hopscotch markings can also be used to practise the hurdle step needed for springboard take off. This is basically the bit where you jump from one foot to land on two feet. The beam line is excellent for practicing jumps and leaps as well as forward rolls in a straight line.
At 1-3/8″ thick its more suited for carpet than on top of hardwood surfaces. You can pickup the Tumbl Trak Hopscotch Mat for less than $250 on Amazon.
Things to consider
Before you buy a gymnastics mat to use at home you will need to consider the following things:
Space
Where is your gymnastics mat going to be used? Measure the space so that you buy a mat which is suitable for the space you have available. Check the ceiling height as well – keep it clear of low hanging lights!
Thickness
Panel mats and Flexi-Roll flooring will be between 1-3/8 " and 2″ in thickness. This gives enough cushion to prevent injury but any thicker and the mat will become too soft to use for tumbling type skills.
If you are using a your mat on a hard surface you should opt for the 2″ thickness.
If you are using you mat on carpet then 1-3/8″ or 1.5″ thickness will be sufficient as the carpet will also act as a cushion.
Storage
Most average-sized homes won't have enough space to leave gymnastics equipment set up all of the time so a gymnastics mat will need to be stored somewhere when not in use. The great news is that there are lots of mats that can be folded or rolled up when not in use.
Tranport
Will you need to move your mat from place to place or home to home? If so then look for a mat which has carry handles.
Final Thoughts
A gymnastics mat is worth the investment if you have a keen gymnast who likes to practice at home a lot. The added safety of a gymnastics mat should help prevent injuries, especially to ankles, wrists and knees. If you are still unsure about gymnastics mats at home check out my article 'Are Gymnastics Mats Worth It?'