If you are looking for gymnastics equipment to use at home it can become confusing. There are plenty of brands to choose from, some are very expensive and others are super cheap. FB Sport is a relatively young company, but are their products any good?
This is an honest review of their products to see if they are worth investing in.
Table of Contents
Quality of FB Sport products
The pricing of FB Sport products is considerably less than market leaders such as Air Track Factory and Tumble Trak however the quality of their products is still very good.
A brief history of FB Sport
FB Sport was founded in 2017 making them a relative newcomer to the gymnastics equipment industry however, they have become a well-known brand in a short space of time. The product range is targeted for home use so I have not come across equipment in professional gymnastics facilities.
The FB Sport website is excellent both in terms of looks and design. Combined with a focus on great customer service they seem to really understand what's important to a modern online business.
CG: What was the inspiration behind starting FB Sports?
FB Sports: The FB Sport story started in year of 2017, when two parents, now the owers of Fbsport, took their kids to a local gymnasium for a daily practice. While waiting for their kids to finish practicing, they popped out an idea if there is any equipment that is suitable for practice at home? Then searched online, found the airtracks, assumed they would be perfect, but kinda expensive. So they planned a new brand that provides more affordable products for kids all around the world.
FB Sport now sell around 120,000 products per year which is very impressive considering their relatively short history.
FB Sport is based in Los Angeles but they manufacture products in China. They also 'prepare inventory' at locations in Canada, Germany, UK and Australia. They also ship deliveries direct from China.
Many companies in the industry outsource manufacturing to China whilst being based somewhere else. It appears that FB Sport has the same model of manufacturing in China then holding stock in various worldwide locations to help keep delivery times to a minimum.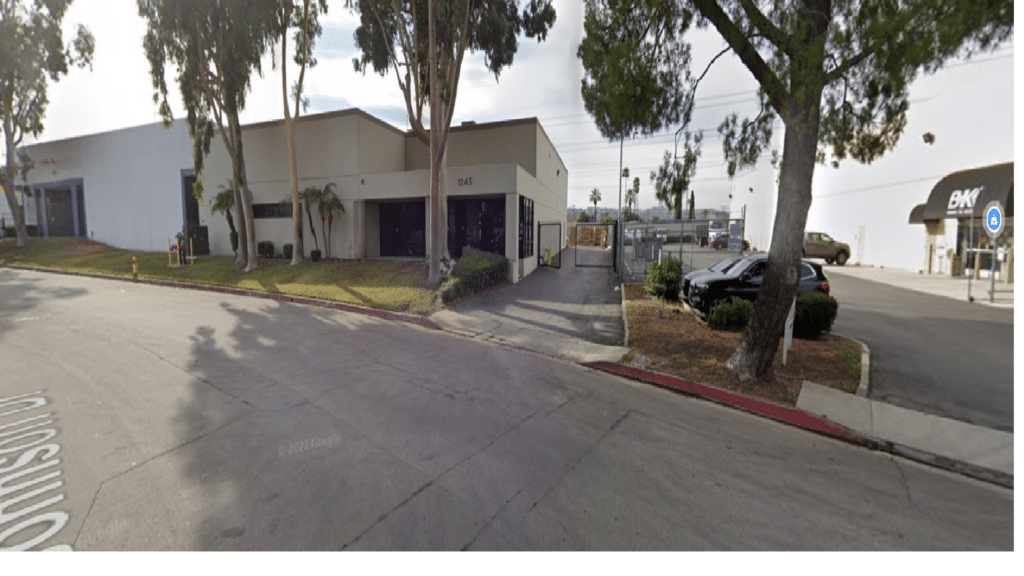 The main gymnastics products FB Sport sells are inflatable gymnastics mats but they also have a range of paddleboards which according to FB Sports, was on the recommendation of a factory they work with.
What gymnastics products do FB Sport sell?
FB Sport has a fairly limited range of products compared to other more established brands. They focus on inflatable products and items that can be used by gymnasts for home practice.
FB Sport Air Track
The most popular item FB Sport sells is the inflatable Air Track. They have a range of lengths, widths, thicknesses and colors.
Lengthwise you can pick from 10ft, 13ft, 16ft, 20ft, 23ft, 26ft, 30ft, 3ft, 36ft or 40ft.
Widthwise most tracks have either 3.3ft or 6.6ft options.
Thickness wise there is the option for 4inch or 8 inch. The thickness relates to the height from the ground when inflated.
There are lots of colors to chose from – I'm sure theres something for all tastes!
In my article 'Are Air Tracks Worth It?' I recommend at least 16ft long so that gymnasts can perform moving tumbles. Anything shorter will restrict them to standing tucks, back handsprings from standing etc.
If you have the space and budget always buy the biggest possible Air Track to ensure your gymnasts don't outgrow it.
A 4 inch thick Air Track for home use is adequate for recreational level gymnasts but if you can afford the 8 inches it should give you more bounce and feels more durable. More advanced gymnasts such as those competing at elite competitions will prefer an 8 inch Air Track.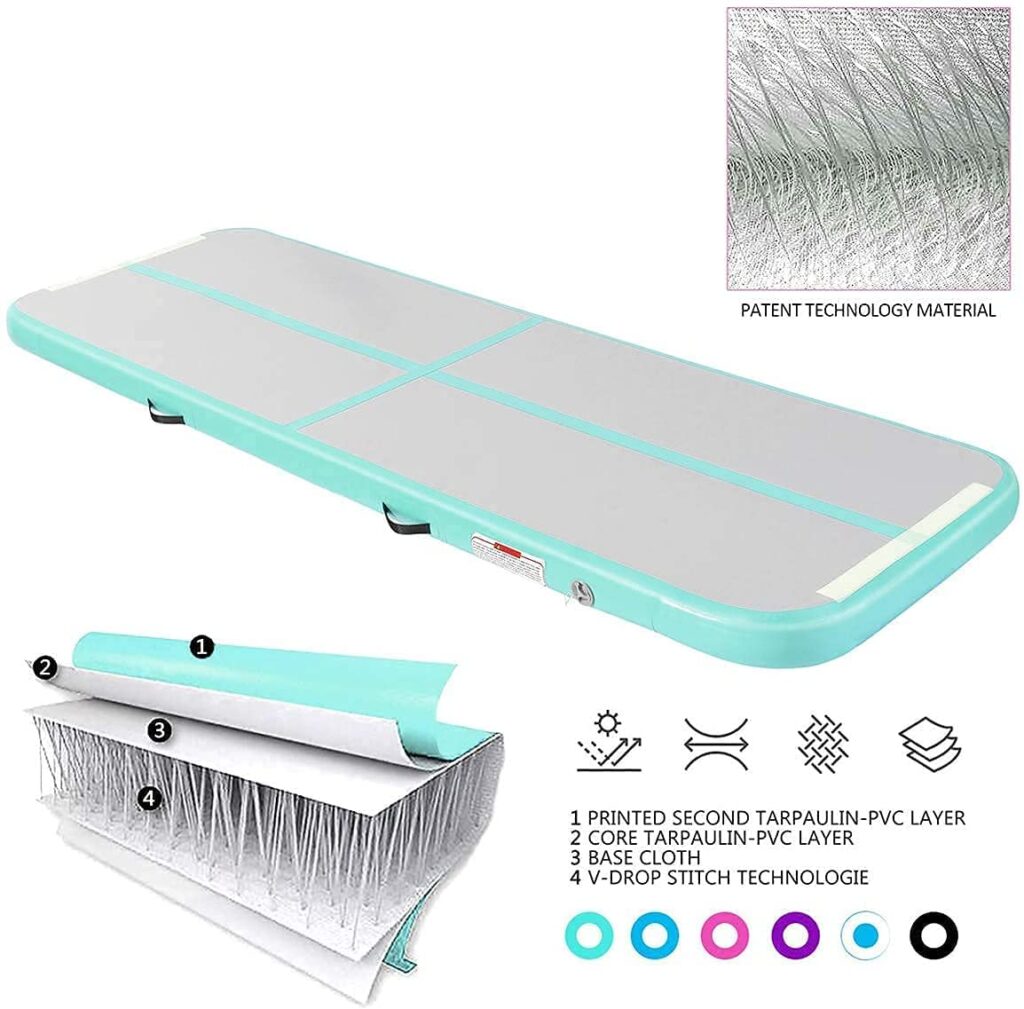 In terms of the manufacturing quality of the Air Track, FB Sport uses a double-walled PVC material of 0.9mm thickness and reinforced seams. It is more than adequate for home use and air leaks will be minimal if the product is well looked after. It doesn't reach the same quality as premium brands such as Air Track Nordic who weld their seams rather than stitch them.
FB Sport Air Tracks also lack the highest levels of reinforcement around the material but to be fair they are not claiming to be a premium brand.
Most people are attracted to the low prices of FB Sport. To give you an idea of what I mean let's compare the prices on a 16ft x 3ft x 4in Air Track.
All prices are correct at the time of writing and don't include special offers or temporary discounts
FB Sport Air Spot
Air Spots are a cool add-on toy for practicing gymnastics tricks. I think of them more as something to use on top of an air track or in the pool rather than a product to be used on its own.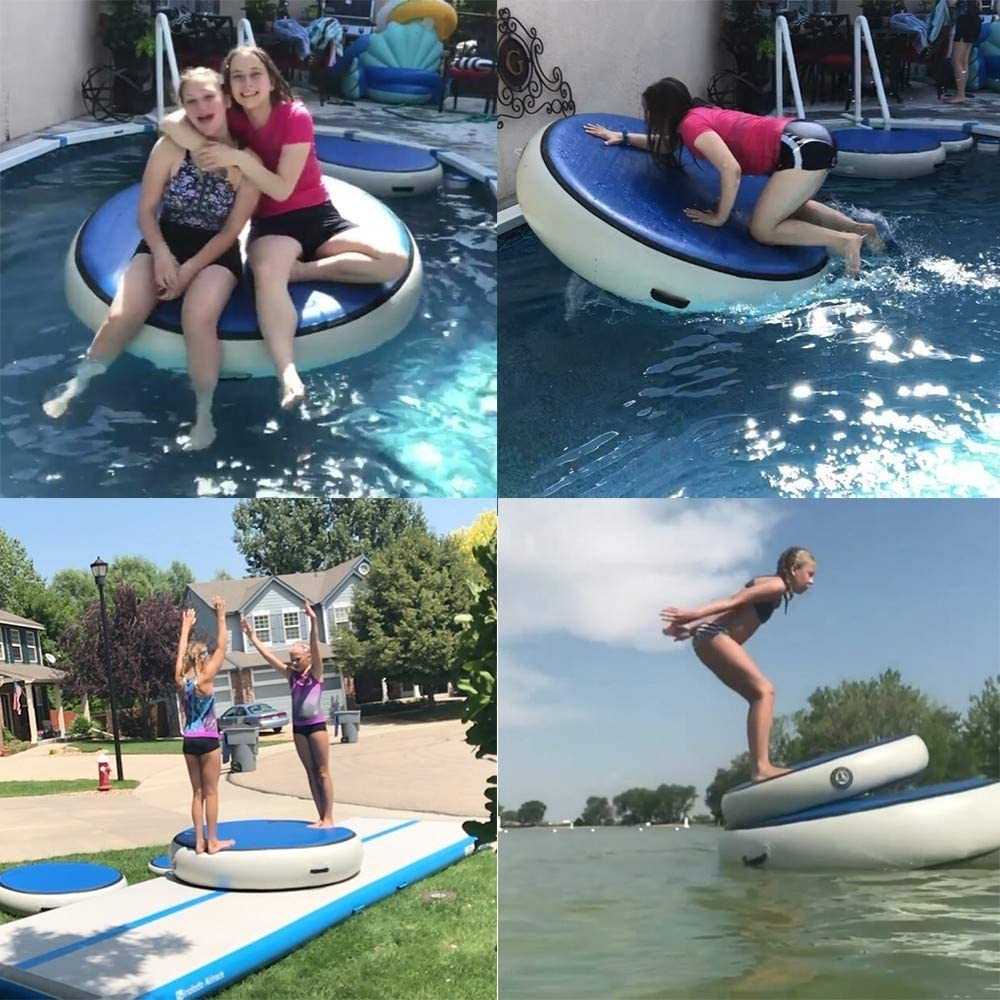 The design and material of an Air Spot are identical to an Air Track except it's round rather than rectangular. The benefit of having an Air Spot is that it is small and easy to set up and use.
Gymnasts can also use the spot as a take-off spot. For example, if placed on top of an Air Track a gymnast could perform a standing back tuck from the edge of the spot and land on the track.
FB Sport sells three sizes of Air Spot:
Use the code CompleteGymnastics for an exclusive discount at the checkout (prices shown don't include the discount).
For the price, I wouldn't recommend bothering with the Baby size Air Spot. The additional $40 or so for the Medium size will give longer use out of the product. For teens or adults, I'd suggest the Large is your best option.
Quality-wise the Air Spots are on a par with the FB Sport Air Track. The material is identical and as long as the product is looked after you shouldn't have any issue with loss of air.
An electric pump is also included with the price.
FB Sport Gymnastics Bar
The FB Sport Bar has two features that really stand out – the safety rails and the folding design.
The added safety rail along the floor at the front and back adds stability and reduces the chance of the bar toppling over. It creates a complete rectangular footprint which is unusual in gymnastic bars.
Another feature that is rarely seen on home gymnastics bars is the folding mechanism that allows the bar to be stored flat against a wall when not in use. This will make a huge difference to people that simply don't have enough room indoors to leave a gymnastics bar fully set up all of the time
The FB Sport bar costs around $100 either on Amazon or through the FB Sport website. The price is very low for a gymnastics bar – even the cheaper bars found on Amazon are typically around $120 – $150. An established brand such as Tumbl Trak will charge at least $350 for a home gymnastics bar.
Size-wise this bar is more suited to younger gymnasts as the weight limit is only 110Ibs and the maximum height of the bar is 52 inches. FB Sport doesn't seem to specialize in apparatus such as bars as most of the products are inflatable type mats and this really the only type of apparatus they sell, apart from the beam.
However, it is great value for younger children.
FB Sport Beam
FB Sport sells two versions of the Beam – one folding beam for the floor and an 8ft adjustable beam. Both only appear to be sold on Amazon as they are not listed on the FB Sport website.
As with the other FB Sport products I've reviewed, the Folding Beam is well made and reasonably priced. The suede cover is tight and replicates the material used in a professional Balance Beam.
The material is tight-fitting, which is not always the case in cheaper home use beams, many of which have a loose PVC cover and is nothing like a professional beam.
The 8ft Beam is also well designed and has the aim of replicating a professional beam, something it does well with the suede covering and replica dimensions. The only thing I believe could be improved is the width of the floor legs which appear slightly small. However, this doesn't seem to be an issue as no online reviews complain of poor stability.
Other FB Sport Products
FB Sport has a good range of inflatable training mats including:
Air Boards
Air Blocks
Air Rolls
Air Squares
Products tend to come in a range of sizes and colors and include an electric pump. These kinds of products can be really fun but would probably be best used with an Air Track.
For example, the Air Roll is great for learning a Handspring and Back Handspring but you wouldn't want to learn on a hard surface. But place the Roll on top of the Air Track and you would have added an added cushion when landing.
Most of these products are only available on the FB Sport Website and not Amazon.
What do the reviews say?
After reviewing two websites, here's what customers had to say:
Amazon Reviews
Check the latest prices on the FB Sport Amazon store here.
The popular FB Sport Air Track has an impressive average rating of 4.7 out 5 from over 2,500 reviewers. 94% of reviews were either 4 or 5 stars which is comparable to the premium equipment products on Amazon such as Air Track Nordic and Air Track Factory.
Some reviewers did mention that their Air Track leaked air or lost pressure. However, these were at a minimum and the vast majority of reviewers stated that their Air Track was performing better than expected especially as it was cheaper than premium brands.
Other FB Sport products on Amazon include the Horizontal Bar (rated 4.5 out of 5) and the Folding Beam (4.7 out of 5). Many of the positive reviews also mention that the product is more durable and better than they expected because of the relatively low price.
FB Sport only sells a limited selection of their products on Amazon. If you can't find what you are looking for, you will need to visit the official FB Sport website at www.fb-sport.com.
FB Sport Website Reviews
Reviews of the FB Sport Air Track on their own website also average 4.7 out of 5 although this is only based on 24 reviews which is way less than on their Amazon store.
One reviewer mentioned that the Air Track did get some small holes but also mentioned that her daughter had been moving it from place to place which, to be honest, could happen even to premium quality air tracks. Maintaining your Air Track properly will ensure it lasts longer – you can read my full guide on maintaining your air track properly here.
Other product reviews on the website are very high and are mostly rated 5 out of 5 stars.
If you make a purchase at the FB Sport website use the code COMPLETEGYMNASTICS for a 10% discount.
How long is the warranty on FB Sport products?
FB Sport has a one-year warranty on their products if there is a fault. According to their website, they will replace faulty items that are under warranty. They also offer a full refund within half a month for items returned for any reason. During holiday periods they extend the returns period up to one month.
Final Thoughts
If you are looking for a low-cost but durable inflatable gymnastics mat then FB Sport is an ideal choice. Whilst they do not use the highest quality premium materials, they are still very good quality and represent excellent value for money.
Hopefully, in the future, they will expand the range of gymnastics products that they sell.
Latest Posts