Dive deep into our review of five leading cheap Air Tracks. Know their features, user opinions, and weigh the pros and cons to find your perfect inflatable mat!
I use my twenty years of gymnastics experience to give you an opinion you can trust, which is especially important when you want to avoid higher priced brands.
Let's get started!
Table of Contents
1. Fbsport Air Track
The Fbsport inflatable Air Track stands out for its quality, durability, and excellent value for money.
Do not be concerned about the quality because of the cheap price compared to other more expensive brands. Fbsport is affordable but still delivers excellent products.
Fbsport has been known for delivering affordable gymnastics equipment since 2017, and its inflatable Air Track is no exception. With its user-friendly inflation and deflation system, it ensures convenience for gymnasts at all levels. The mat's surface is smooth, allowing for seamless moves and jumps.
We tested one out in a professional gym and the results were fantastic, especially because it doesn't lose any air pressure for ages! Check out the full review here.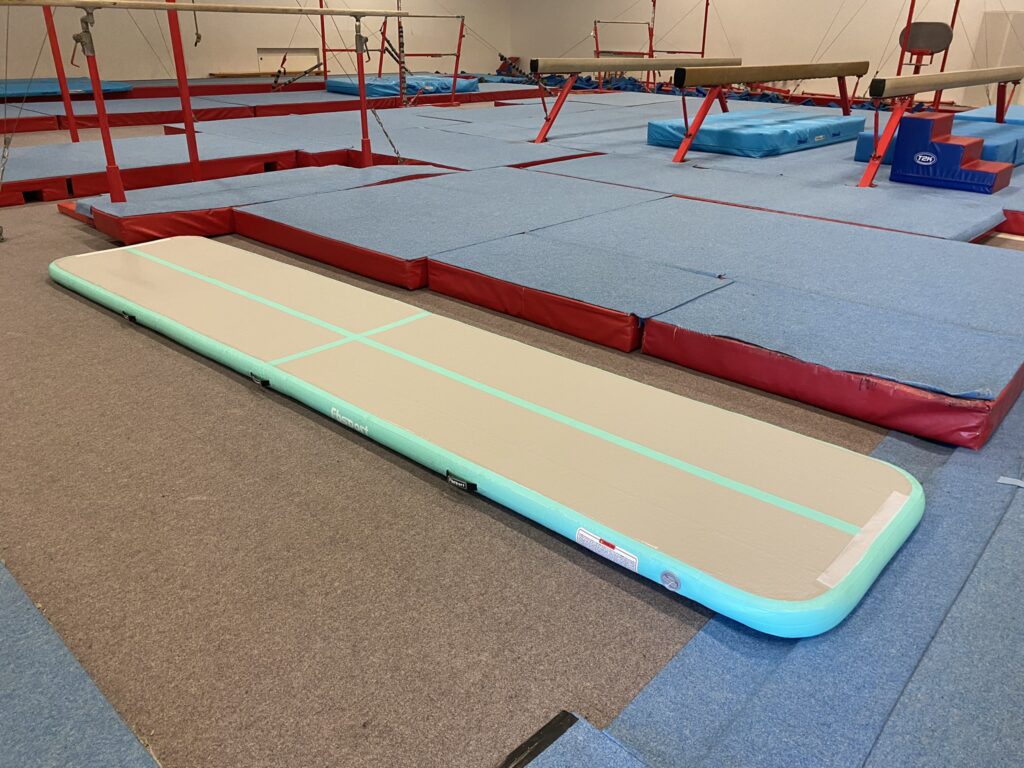 Full Features:
Quick inflation and deflation system.
Durable PVC material.
Anti-slip surface.
Available in multiple sizes and colors.
Portable and lightweight.
Warranty & Service:
The product comes with a 1-year manufacturer's warranty on any quality-related issues. Fbsport's customer service is responsive and efficient in addressing any concerns or issues.
You are also able to get a full refund for any reason within 30 days but you will have to pay return shipping costs if there is no fault and you purchased via the Fbsport website.
Pros:
Delivery packaging is sturdy and protective.
Zero air pressure loss.
Excellent bounce.
Suitable for all levels of gymnasts.
Cons:
Cheaper air mats are available elsewhere.
2. Aksport Gymnastics Air Mat
Aksport's air mat is a versatile choice for gymnastics, offering a blend of durability and comfort.
The Aksport gymnastics Air Mat boasts a balanced feel, ensuring gymnasts get both comfort and stability. Its thicker design is ideal for those who prioritize safety, cushioning falls effectively.
The smaller-length Aksport air tracks are cheap but still provide superb quality in the stitching, seams and plug which is vital to prevent unwanted air loss.
Full Features:
Carry bag and repair kit included.
Made from eco-friendly PVC.
Fast inflation mechanism.
Reinforced seams for added durability.
Suitable for indoor and outdoor use.
Warranty & Service:
Aksport offers a 2-year warranty on their air mats. Their customer service is known for being supportive and prompt.
Pros:
Eco-friendly materials.
Extra cushioning.
Durable and long-lasting.
Cons:
Can be bulky for some users.
Requires regular air top-ups.
3. Awsum Inflatable Gymnastics Mat
Awsum's mat is an affordable option that doesn't compromise on quality or performance.
The Awsum inflatable mat offers superb value for money. It's an excellent pick for beginners, providing enough bounce and stability. The mat's design promotes safety and is easy to clean.
4 inch and 8 inch thickness options are available. Most gymnasts training at home will be able to use the 4 inch option however more advanced gymnasts will benefit from the thicker option.
Full Features:
Budget-friendly.
Suitable for beginners and intermediates.
Water-resistant surface.
Comes with an electric pump.
Easy to fold and store.
Warranty & Service:
Awsum provides a 6-month warranty on this product. Their customer service is known to be helpful but may be slower during peak times.
Pros:
Affordable.
Easy to maintain.
Suitable for indoor and outdoor use.
Cons:
Shorter warranty period.
Limited color options.
4. VOFiTNY All Purpose Gymnastics Mat
VOFiTNY's mat is versatile and suitable for multiple exercises beyond gymnastics.
The VOFiTNY mat distinguishes itself as an all-purpose mat. Its design allows it to be used for yoga, pilates, and even aerobics. The mat is durable and provides a consistent bounce.
The material looks and feels very similar to other cheaper air tracks but don't be concerned about the quality as the VOFiTNY air track has excellent customer reviews and is well known for keeping a high air pressure.
Full Features:
Multi-purpose use.
Non-toxic materials.
Dual-valve inflation system.
Easy to roll and store.
Includes a carrying bag.
Warranty & Service:
VOFiTNY offers a 1-year warranty. Their customer service is commendable, handling inquiries and issues professionally.
Pros:
Multi-functional.
Made of non-toxic materials.
Portable design.
Cons:
It might not provide enough cushion for high-impact exercises.
It takes longer to inflate compared to other mats.
Conclusion:
Choosing the right inflatable gymnastics mat depends on your needs and preferences.
There are a number of great quality cheap air tracks available that make a serious alternative to big brands such as Air Track Factory and Air Track Nordic.
Be cautious if selecting an air track that costs even less than the ones in this article as below the $100 you will find that the quality often starts to fall, just like the price. For between $120 and $200 you will be able to find great quality at an affordable price.
Whether you prioritize durability, versatility, or value for money, there's a mat on this list for you. Evaluate the features, weigh the pros and cons, and consider other users' opinions to make an informed decision.
Happy gymnastics!
FAQs
Is an air track like a trampoline?
An air track and a trampoline are similar because they create a bounce or rebound for the user. Trampolines tend to create much more bounce than an air track because the springs are able to generate more power than an air track which is inflated with air.
Trampoline users only want to go up vertically whereas air track users often perform tumbling skills that travel forward or backward as well as up.
Why is my air track losing air?
Air tracks can lose air for a number of reasons. It may be that a puncture has occurred or a plug has not been secured. Even the best air tracks will lose some air over time because of gaps around the plug or stitching. Minor holes and tears can usually be repaired in a similar way to repairing a bicycle puncture.
How much air is in an air track?
It depends on the length and thickness of the air track but all air tracks are hollow inside and completely filled with air.
Do air tracks have friction?
Air tracks usually have an anti-slip surface on the bottom or velcro to stop them from sliding. The top surface doesn't have much friction or users would injure themselves while jumping or tumbling. If your hands or feet get sweaty it will reduce the amount of friction and you may want to consider using chalk to prevent injuries.