If you have a child who wants to take gymnastics practice to the next level at home then an air track is for you! Air tracks are a great way to stop them from jumping on the sofa or bed and practise on a safe piece of kit that is also found in professional gym facilities around the world. The good news is that an air track can be stored and transported easily when not in use and they don't have to be expensive.
Find my best 6 air tracks for home use below.
Table of Contents
Air Track Factory (also known simply as AirTrack) are early pioneers of inflatable air track and are still regarded as the top manufacturer in terms of quality and design. Their products are not the cheapest but if your budget allows it, I would always recommend purchasing from Air Track Factory.
The 16ft Air Mat is around $515 but includes a pump and free shipping. The 10ft version is cheaper at $335 but I recommend getting the larger version where possible as it will allow for longer tumbles and will ensure your gymnast doesn't run out of room as they start to get taller. Alternatively, you could get two of the 10ft tracks and velcro them together. Air Track Factory sell this exact bundle for $650 which is great value for money.
Both versions are 3ft wide and 4" thick which allows all the most popular gymnastics moves to be performed safely at home. The 10ft version is featured in the video above.
Air Track Factory are premium quality tracks – double strength fabric, high-quality stitching on the handles and strong valves. They last for a long time (as long as you look after them). I know this because I personally use the Air Floor and Tricking Floor in a professional gym facility and even after several years of constant use they still perform like new. The 5-year warranty should also give peace of mind.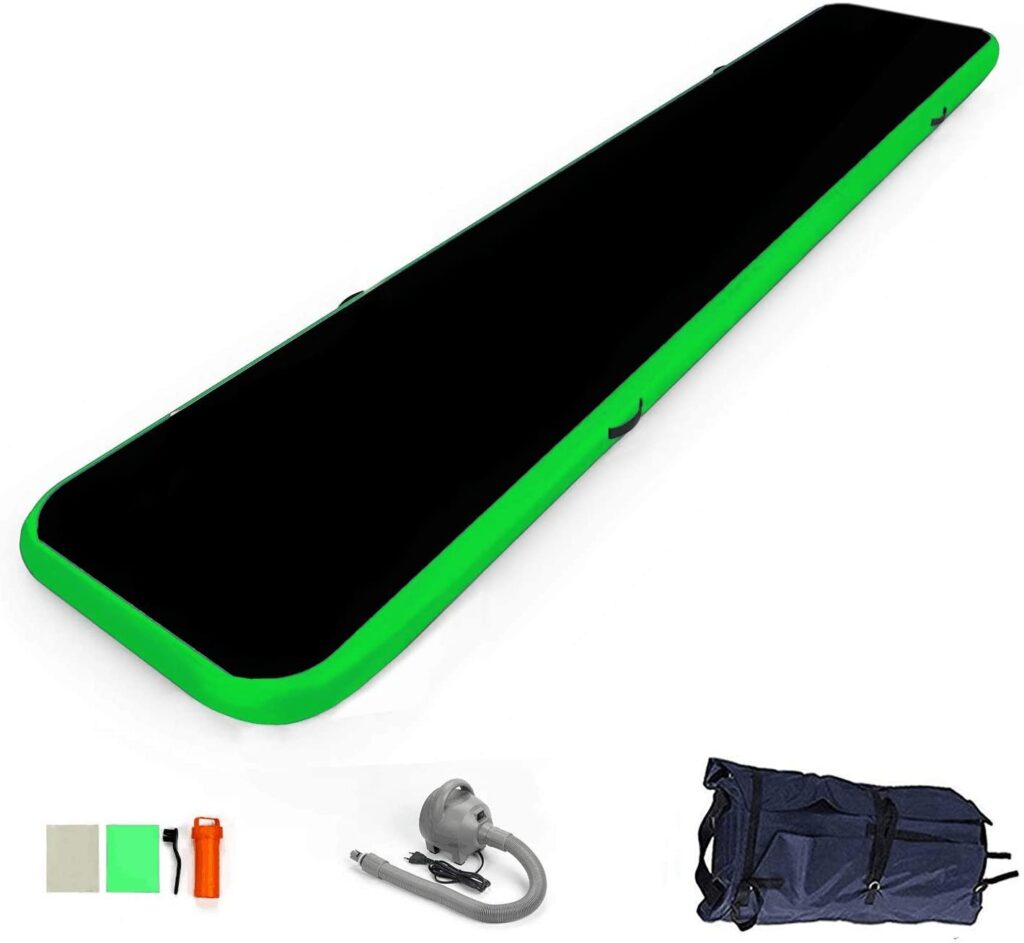 EZ Glam is based in the USA and sells great quality air tracks in a huge range of colours and sizes. The black and green version is my favourite because it looks so different!
The 16ft version comes in at around $280 on Amazon which is good value for money considering it is still made from double-strength fabric. Overall quality is very good and it is cheaper than Air Track Factory, but that is partly due to the Air Track Factory brand name being so recognisable in comparison.
Size wise you can also choose between 10ft / 13ft / 16ft and 20ft in length and between 4" and 8" in thickness.
As mentioned in a previous article, 4" air tracks are more than adequate for the home.
Amazon has the lowest prices when it comes to air tracks. Although there are some being sold with very poor reviews, this choice from Dwzdd, has great reviews. And the 10 ft version is only just over $100 which is probably one of the cheapest air tracks around.
The 16 ft version (which I recommend) is around $200 which is up to $300 cheaper than the premium air tracks on the market. As a result, the material is slightly thinner and probably wouldn't be used in professional gym facilities, but for home use, it will be more than adequate.
I'm a big fan of FB Sport products. They are a relatively new company but only sell premium quality products without the expensive costs.
Their air track range comes in a choice of colours – blue, pink, mint and purple and they ship worldwide. The attention to detail is better than the alternatives generally found on Amazon. For example, the handles are made from carbon fibre making them more durable. The velcro also runs along the whole width of the track so if you did choose to link two tracks together, they will join more securely.
For around $260 you can get a 16ft track with a pump and storage bag included.
Get an extra 10% off at FB Sport by using the code CompleteGymnastics at checkout.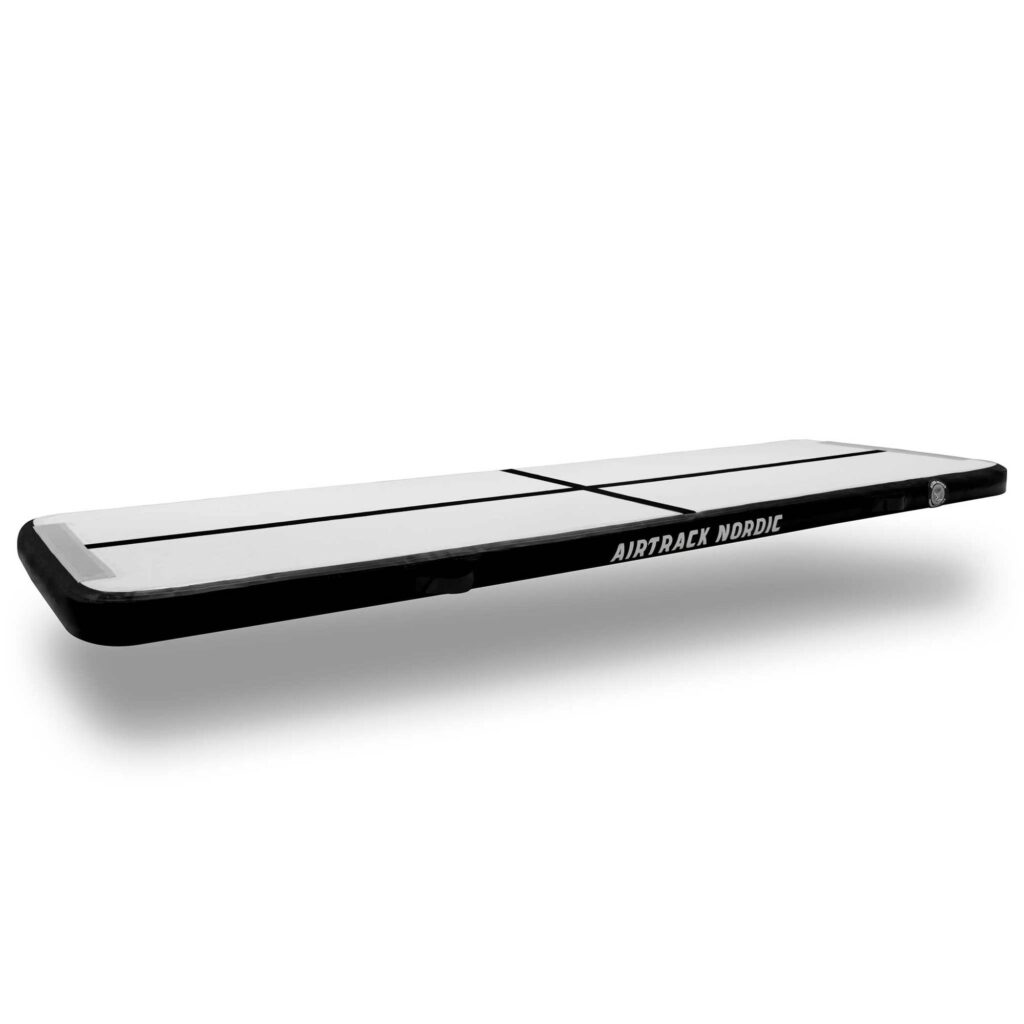 If you are looking for exceptional quality then Air Track Nordic is for you. The fabric is double-walled and made from high-quality non-toxic materials with 2700 threads per 10 sq ft.
What makes Air Track Nordic different is the fact the material is welded rather than stitched. This makes air loss even less likely than with other air tracks.
The 16ft standard version will set you back between $400 – $500 or you can opt for the home range tracks which are 10ft in length and cost only $200-$300. Both come in a range of colours 4" thickness and include a pump and carry bag.
The HappyBuy air track on Amazon looks very much like the original from Air Track Factory. The good news is that they also feel and perform very well but at a lower price. In fact, you can pick up a 16ft air track for around $200. It also includes an electric pump and carry bag and is available in a choice of four colours – Navy Blue, Blue, Pink or Tiffany.
I love Pigmie's review of the HappyBuy air track on Youtube. He gave it a big thumbs up and so do I! Though I think the term 'knock-off' is a bit harsh as it's a great product in its own right. The HappyBuy air track doesn't have velcro at the ends so you won't be able to attach them together securely. But they are sold up to 20ft in length so if you need a longer track go for the larger version.
Factors to consider when buying an Air Track
For an in-depth review of air tracks, you need to read my article 'are air tracks worth it?'
The main factors you must consider before buying an air track for the home are:
Length – will depend on the skills / age / height of the gymnast. At least 16ft is my recommendation for teenagers and team gymnasts
Thickness (height) when inflated – 4" is adequate / 8" is a bonus for home use
Fabric – Double strength will help keep it inflated for longer and be less likely to pop, however you will pay more for stronger fabric
Whether a pump is included – if so is it electric or a foot pump? Both have their uses (foot pumps are ideal for parks / beach)
Colour – most tracks will have a range of options
Then there is the usual cost factor but definitely check whether shipping is included or not.
Final Thoughts
Air tracks are awesome for all ages and abilities of gymnasts, from the complete beginner through to the competitive team gymnast. Even the grown-ups can have a go too! Every brand that I have recommended in the top 6 is a brand I have personally owned, used or provides extremely high customer reviews online.
Latest Articles: