Gymnastics is a great activity for toddlers, providing them with numerous benefits such as improved flexibility, strength, and coordination. However, when it comes to toddlers, finding the right gymnastics gear can be a challenge. One of the most important pieces of equipment for young gymnasts is the leotard. Not only does it help them move freely and perform their first rolls and cartwheels with ease, but it also adds to the fun and excitement of the sport.
With so many leotard options available, it can be overwhelming to choose the perfect one for your little one. In this article, we will review the best gymnastics leotards for toddlers, taking into account factors such as comfort, fit, style, and affordability, to help you make an informed decision.
Table of Contents
All of the picks in this article are available in a toddler age and size however, you must check each sizing guide individually as different leotard brands can size differently.
Destira is renowned for its wide range of bold and empowering designs for girls. Our favorite from the extensive toddlers and pre-schoolers range is this cool Penguin design.
This addition is a soft pink velvet tank leotard adorned with adorable penguins on the front and back. The background features an array of Destira stars and mini polka dots, giving it a sprinkle of something special. This Perfect Tank style is designed for comfort and superior mobility, making it a timeless classic suitable for every toddler as they get started in gymnastics for the very first time.
The velvet fabric used in this leotard has a dense, plush pile, and a beautiful sheen that adds a touch of elegance. Additionally, this leotard comes with a matching scrunchie to complete the look.
Use the code HAPPY15 at the Destira checkout for a 15% discount on your purchase.
In my experience, GK always provides great quality leotards that represent value for money. Unlike some of the other 'big' leotard brands, you can pick up a GK leotard for less than $20. The GK Stars leotard also fits into this very reasonable price bracket.
For a mid-price range option, you still get a great-fitting leotard that looks awesome. The thinner 'spaghetti' style shoulder straps are popular with toddlers as they are less evasive compared to traditional designs.
If pink's not your thing, check out the same design in either blue or black.
Obersee is an ideal choice if you are looking for something extra special in a leotard. Most of their range, including toddler-sized garments, will set you back over $50.
Based on experience, the Obersee designs stand out due to their bold colors and the high-quality choice of fabric material. Most Obersee leotards, including this one, have a brilliant shimmer to the material which differentiates them from cheaper leotards.
They also sell a small range of two-piece outfits which are ideal for young gymnasts that don't enjoy the tightness around the crotch area with a traditional leotard. The two-piece garments are basically the tank top of the leotard and the shorts all made from the same high-quality fabric but as the name suggests they are not all in one but are instead separated around the waist into two pieces. They make trips to the bathroom a lot more straightforward too!
Unfortunately, the smallest size we could find is 4 – 6 years old so they didn't make the pick for this article but are worth considering if you are happy to buy a size up for your toddler.
Obersee is a relatively new brand on the scene but they appear to be growing quickly in popularity.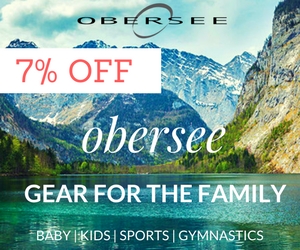 For around $10 you can pick up this cool and colorful leotard on Amazon.
The Girls Gymnastics Leotards by TENVDA boast a range of impressive features that make it the ideal apparel for young gymnasts. The soft and stretchy fabric of this polyester/spandex leotard offers comfort, flexibility, and durability, making it perfect for toddlers.
There are two sizes for pre-schoolers and if the Rainbow Sparkle design isn't what you're looking for, there are many other designs also sized for toddlers and preschoolers.
This extremely popular leotard is ideal for any toddler with a passion for dinosaurs and gymnastics!
The fit is a traditional tank top, with a higher neckline at the front and a lower neckline at the back. The material fits well but is not as close fitting as more expensive brands such as Destira or Obersee. But for toddlers that usually isn't a problem. The leotard gives plenty of stretchiness for a full range of movement while still looking and feeling great.
For around $15 on Amazon, this fun design is good value for money as well.
If you're on the hunt for a high-quality alternative to a gymnastics leotard for your toddler, the Jeskids biketard is definitely worth considering. A biketard is basically a one-piece garment that combines a leotard top with shorts.
Made from new and top-notch materials, this biketard is both comfortable and breathable, making it ideal for those first gymnastics practice sessions. The unique printed patterns are also fade-resistant and won't lose their shape, ensuring that your child always looks her best.
One of the standout features of this biketard is the unique bow knot design at the back, which adds a touch of fun and style. The classic neckline and sparkly material also make for a stylish and eye-catching look. The wide crotch area and two layers of breathable fabric provide both comfort and flexibility, allowing your little one to move freely during her routines.
In addition, the Jeskids biketard comes with a matching hair scrunchie, which adds a cute finishing touch. Made from 82% Nylon and 18% Spandex, this gymnastics leotard has excellent stretch and durability, making it a perfect gift for young girls who are just starting out in gymnastics.
There are many more biketards on the market, read my reviews of the best ones here.
In Conclusion
Gymnastics leotards for toddlers come in a variety of styles, colors, and materials, making it easy to find one that suits your child's needs. When shopping for a gymnastics leotard, consider the level of comfort, durability, and flexibility that it offers. Some of the best brands to consider include TENVDA, Destira, and GK Elite.
TENVDA gymnastics leotards are made from soft and stretchy fabric that offers great comfort, flexibility, and durability, making them perfect for beginners. Destira offers a wide range of bold and empowering designs suitable for toddlers and preschoolers. GK Elite provides a range of high-quality leotards made with durable materials that can withstand the rigors of gymnastics.
Ultimately, the best gymnastics leotard for your toddler will depend on their individual preferences and needs. Choose a leotard that your child will be comfortable wearing and that will allow them to perform their gymnastics moves with ease.
FAQs
Q: Do all brands of gymnastics leotards for toddlers size the same?
No, each brand sizes its leotards differently. It is important to consult the size chart provided by each brand before making a purchase to ensure that you select the correct size for your child.
Q: Can a gymnastics leotard for toddlers be used for other activities besides gymnastics?
Yes, many gymnastics leotards are versatile and can be worn for other activities besides gymnastics, such as swimming, dancing, yoga, and sports. It is important to consider the materials used and the level of comfort and flexibility that the leotard offers when selecting one for other activities.
Q: Is it easy to use the bathroom in a leotard?
No, especially for younger gymnasts! The leotard needs to be almost fully removed so be on hand to help and remind them to go before they start class as well.