As a gymnastics coach, I understand the importance of having the right equipment for training and competitions. A key piece of equipment for any gymnast is the leotard, which not only serves a functional purpose but also allows gymnasts to express their personal style. In this article, we will be exploring the best gymnastics leotard brands for 2023.
Read on for a definitive list of leotard brands and exclusive discount codes.
Table of Contents
Destira
First on our list is Destira, known for its empowering designs and comfortable fit. Destira leotards are made from high-quality materials that provide superior performance and durability and are incredibly comfortable to wear. This brand is a popular choice among gymnasts, as their unique designs allow athletes to express their individuality in a fun and stylish way.
GK
GK Elite is another brand that is worth mentioning for its fresh and high-quality designs. GK leotards are known for their innovative designs, and their team of designers is constantly creating new and exciting styles for gymnasts to choose from. GK Elite is a popular brand among competitive gymnasts, as their leotards combine style and functionality.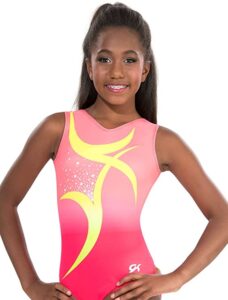 Obersee
Next, we have Obersee, a brand that is well-known for its strong and sturdy material. Obersee leotards are made to withstand the rigors of intense gymnastics training, ensuring they will last for a long time. This brand also offers a variety of colors and designs, allowing gymnasts to find the perfect leotard to suit their style and personality.
Obersee rucksacks and other gymnastics apparel are cool too!

Obersee Girl's Girls Gymnastics Leotard – Abby Purple – $53.99
from: Obersee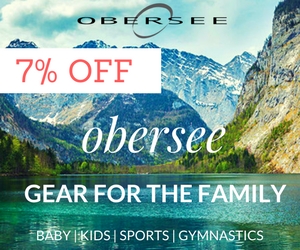 United All-Around
For those looking for value for money, United All Around leotards are an excellent option. This brand offers high-quality leotards at an affordable price, without compromising on quality. United All Around leotards are made from breathable and durable materials, ensuring that they will last through many training sessions and competitions.
Quatro
If you're looking for unique and stand-out designs, Quatro leotards are a great choice. Quatro leotards feature bold and innovative designs that are sure to turn heads. This brand offers a wide range of leotards, from simple and classic designs to more elaborate and intricate styles.
Ozone
Next, we have Ozone, known for its stylish and fun designs. Ozone leotards are designed to be both functional and fashionable, and their wide range of designs caters to a variety of personal styles. This brand is a popular choice among gymnasts who want to stand out and make a statement with their leotards.
Gymnastic leotard brands UK
Depending on which part of the world you're based in there are always great gymnastics leotard brands available. Most big brands will ship globally but if you're looking for something UK-based check out the following brands from the UK (some of these will also ship globally).
The Zone
The Zone is known for its great value and fresh leotards. If you are looking for something on a budget but don't just want an unknown Amazon brand, The Zone is for you.
Designs are fun and they also have a good selection of leotards for male gymnasts which many other brands overlook. The Zone leotards fit well and are generally comfortable to wear and are popular with recreational gymnasts.
Milano
Next up is Milano which tends to be more expensive than The Zone but produces really high-quality leotards. You will need to buy direct from Milano (no Amazon store) but they are known for great customer service.
Designs are stylish and stand out from the crowd and are popular with competitive gymnasts.
Decathlon
Decathlon leotards are fantastic value and of great quality. The range is not the biggest but what they do sell is done very well. Highly recommended for beginners or gymnasts on a budget.
Gymnastic leotard brands Australia
If purchasing a leotard made in Australia is important to you then the following brands are ideal.
Sylvia P
First up is Sylvia P, a brand that has been making waves in the industry for years. Known for their fun, bright leotards that are made in Australia, Sylvia P offers a range of styles that are perfect for gymnasts of all ages and abilities. Their leotards are made from high-quality materials that provide excellent stretch and support, while also being durable enough to withstand the rigors of daily practice and competition. What's more, their leotards come in a range of sizes and styles, ensuring that there's something for everyone.
GMD Activewear
GMD is known for its beautiful and wide-ranging selection of leotards, which come in a variety of colors, patterns, and styles. GMD Active Wear's leotards are made from high-quality materials that are designed to provide maximum comfort and flexibility, while also being breathable and moisture-wicking. This is especially important for gymnasts who need to stay cool and dry during intense training sessions or competitions.
Final Thoughts
In conclusion, when it comes to selecting a gymnastics leotard, there are many good and popular gymnastics leotard brands to choose from. Each brand has its unique strengths, whether it's for empowering designs, strong and sturdy material, fresh and high-quality designs, value for money, unique and stand-out designs, or stylish and fun designs.
When you stick to the best and more established gymnastics leotard brands, you can ensure that you will have a leotard that is both functional and fashionable for your next training session or competition.