Looking for the perfect long sleeve leotard for your next gymnastics practice? Look no further than our comprehensive buyer's guide! We've scoured the market for top-rated long-sleeve leotards that provide both comfort and style, while also allowing you to perform at your best. Whether you're a beginner or a seasoned pro, we've got you covered with our top picks for the best long-sleeve leotards for gymnastics.
Table of Contents
Based out of Virginia, Obersee manufactures great quality leotards with cool designs. So although they may not be as well known as some of the bigger brands, their products are well recommended.
The Diagonal Purple design is one of only three gymnastics long sleeve leotards that Obersee stocks.
This is common with most brands, as sleeveless leos tend to be more popular than long sleeves.
Obersee leotards fit well and generally speaking, don't ride up making for a comfortable experience when training. If you are looking for a great look and fit then this design is for you!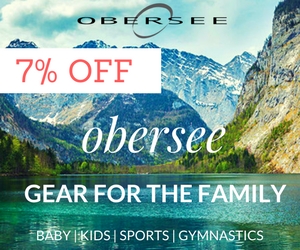 Although this is one of the lower-priced picks on this list ($15 or less on Amazon), it fits well and looks super cute! Unicorn leotards are very popular right now, but if you're not convinced, TENVDA has a wide range of long sleeve leotards for gymnastics. And they are all very reasonably priced.
This leopard print is a very popular leotard in our gym right now, not a day goes by when at least one gymnast will turn up to practice in this leotard!
When I found out how much it costs, it made sense why so many gymnasts wear it. Every time I've checked it's been less than $15 on Amazon which is a bargain.
The shiny metallic feel is cool, but if that's not your thing, the same brand has a number of other long sleeve leotards for gymnastics on Amazon.
This Obersee long-sleeved leotard is made with high-quality nylon and spandex. Many of the cheaper leotards will use polyester instead of nylon but it's hard to beat the elasticity of Obersee leotards because of the better quality fabric. Gymnasts will hardly ever complain of a restricted range of motion in an Obersee leotard because of its great fit.
You will pay over $50 for this option but gymnasts will notice the difference.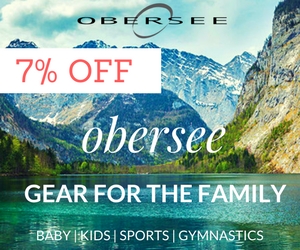 Sparkly leotards are very trendy right now in gyms everywhere. The sparkles on this option for a long sleeve leotard come from the rhinestones fitted onto the fabric.
This particular design is a bit more lightweight than some other picks but at around $20 it is still very good value for money.
The final pick for this article is sold by Decathlon, a big multi-sports retailer from Europe. They are now expanding into the US and have fantastic value leotards including this classic look.
There is a little bit of sparkle but overall its a very straightforward design that's ideal for training sessions.
At around $20 this very durable leotard is a great option if you don't want something flashy.
Why Wear a Long Sleeve Leotard?
While many gymnasts prefer sleeveless leotards for their range of motion, there are a number of reasons why you might want to consider a long sleeve leotard for your training and competition needs.
Improved Grip and Control
One of the most important benefits of wearing a long sleeve leotard for gymnastics is the improved grip and control it provides. When you sweat, it can be difficult to maintain your grip on equipment like bars, beams, and vaults. The added fabric of a long sleeve leotard helps to absorb sweat, which can help prevent slipping and sliding. Additionally, the sleeves provide more surface area for your hands to grip onto, giving you better control.
Reduced Injury Risk
Another reason why you might want to consider a long sleeve leotard for gymnastics is the added protection it provides. Long sleeves can help to reduce your risk of cuts, scrapes, and bruises that can occur during training. Additionally, the compression provided by the leotard can help to support your muscles and joints, reducing the risk of strains and other injuries.
Enhanced Performance
Wearing a long sleeve leotard can also help to enhance your performance as a gymnast. Whilst a leotard cannot magically make you perform skills that were previously impossible (if only it was that simple), it can hide small errors in arm alignment. I'm not saying its good to hide poor technique, but just pointing out the facts! It's harder to spot bent arms with a long sleeve leotard than with a sleeveless one.
More importantly, the added warmth provided by the long sleeves can potentially help to improve your circulation and increase your flexibility, allowing you to perform at your best.
Comfort and Style
Finally, long sleeve leotards for gymnastics offer a range of comfort and style benefits. The soft, stretchy fabric of the leotard provides a comfortable and supportive fit, while the variety of colors and designs available allows you to express your personal style and flair. A long sleeve leotard will also keep you warmer in winter which will keep you feeling as comfortable as possible when the temperature drops.
In conclusion, long sleeve leotards for gymnastics are a great choice for any gymnast looking to enhance their performance, reduce their risk of injury, and enjoy a comfortable and stylish training experience. Whether you're a beginner or a seasoned pro, consider investing in a long sleeve leotard for your next training or competition. With the added grip, protection, and support it provides, you'll be able to take your gymnastics game to the next level.