When your child starts out at Gymnastics, they will almost certainly be in a recreational class for an hour or two a week. Enjoyment and being physically active are the priorities and the thought of getting serious about gymnastics may not have crossed your mind yet.
But the time may come when you or the coach wants to push your budding gymnast up to the next level. Maybe even start competing.
To the novice parent and (gymnast) competitive disciplines can be confusing… so how can you know which is right for your gymnast?
This article will help you make an informed decision based on what's right for your child.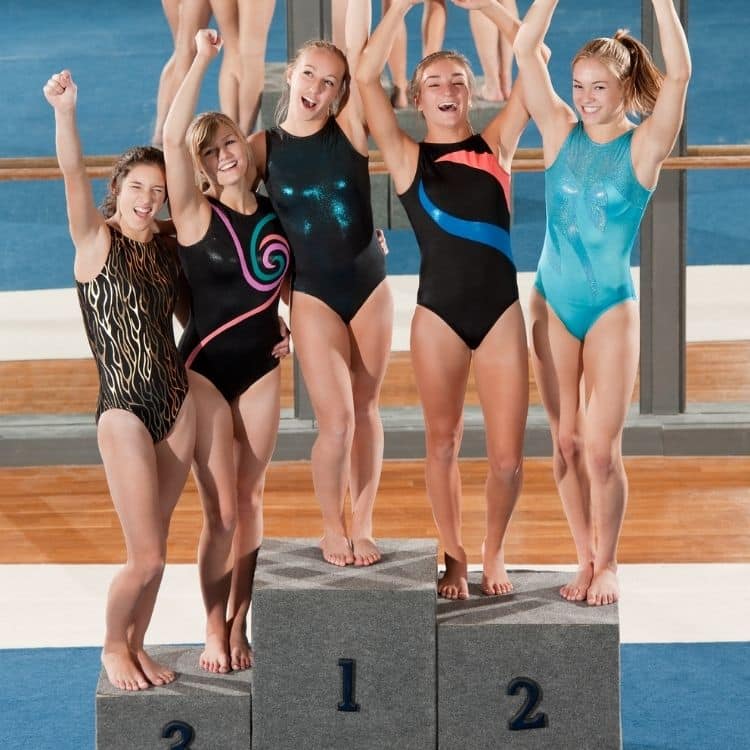 Table of Contents
Starting Out
Beginner-level (recreational) gymnastics, also known as Gymnastics for All, can teach a wide range of fundamental skills from across many different disciplines. The program will vary from club to club and coach to coach but because there is no real competitive element there is little talk about the different disciplines. It's also common for recreational classes to be mixed-gender, which is unusual once you cross over into a competitive discipline.
Most professional gym facilities will have a pathway for gymnasts to move from recreational to competitive programs BUT a competitive program will almost always just focus on one of the disciplines such as Artistic or Tumbling. Smaller clubs may only offer one or two competitive programs but bigger clubs with sizeable facilities will have multiple disciplines to choose from.
What do we mean by a gymnastics discipline? Well, just as Martial Arts has Judo, Karate and Kung Fu, the Gymnastics disciplines have their own rules and apparatus. Some parts may cross over with one another but they are all distinctly different.
Only 4 of the gymnastics disciplines are Olympic events and these are the most well-known.
It is possible for a gymnast to change disciplines throughout their career however, the coaching styles and techniques can be different making it very tough to reach the top after switching disciplines. Therefore choices made whilst a gymnast is still young are hugely significant.
Who decides what counts as a gymnastics discipline?
The International Federation of Gymnastics (FIG) governs all international competitions so they decide what counts and what doesn't. There have been some recent additions to the list of official disciplines such as Parkour in 2017. All of the disciplines in this article are recognized by the FIG except for Team Gym but I have still included it as it is popular in Europe and is governed by European Gymnastics instead.
Each country around the world has its own governing body such as USA Gymnastics or British Gymnastics which align themselves to the FIG rules and disciplines. They can make their own adaptions to the rules for events in their own countries but on the international stage, the FIG sets the standards.
When it comes to the Olympics the IOC (International Olympic Committee) decides how many and which events are included in the games but they rely on the FIG to organize and deliver the chosen disciplines.
Gymnastics for All (GFA)
Gymnastics for All is basically recreational-level gymnastics and is where most beginners start. Gymnasts will probably train between 1 to 2 hours per week mostly for enjoyment and to stay active. GFA sessions can include any type of Gymnastics, including WAG and MAG but not to a high level suitable for elite competitions. However, participants may still take part in low-key events within their club or against other very local clubs.
Some gymnasts will start in a GFA before being talent-spotted by elite coaches so it's a great starting point if your child has aspirations of making the team.
Other gymnasts may stay on a recreational level for the whole of their careers.
Pros: GfA / recreational gymnastics is fun but should still improve children's confidence and fitness. Even if a gymnast isn't talent-spotted for a competitive squad they can learn advanced skills safely.
Cons: There's nothing wrong with being a GfA gymnast but your opportunities to compete will be limited and very local to your club.
Womens Artistic (WAG)
WAG is an Olympic event and has been since 1928. Women were also permitted to enter the 1934 World Championships and have done ever since, though the sport has evolved considerably over the years. WAG is the traditional version of gymnastics and the one that most young girls will aspire to.
Think Olga Korbut, Nadia Comaneci or Simone Biles and you realize how popular WAG is!
Women artistic gymnasts compete on four apparatus:
Both male and female gymnasts compete on the floor however WAG gymnasts will be expected to be graceful, elegant and dance so music is added to their routines.
Elite WAG gymnasts will train for around 40 hours per week and many combine their training with college, especially in the US. The intensity and volume of training is very hard and this results in many gymnasts retiring in their teens and early twenties.
If you make it to the top the reward and glory is fantastic. Especially with changes to the NCAA rules that now allow collegiate athletes to profit from their name, image and likeness (NILs).
Pros: WAG is great for girls that possess good all-around strength, flexibility and flair. Make it to the top and you could be set for life.
Cons: Gym will take over your life! The non-existent social life is especially hard. The four apparatus challenge very different skill sets, so just being good at one or two probably won't cut it. The level of competition is super high and the odds of making it to the Olympics are very, very small.
Mens Artistic (MAG)
The male version of Artistic gymnastics is also an Olympic event and has been since 1896. The history of gymnastics can be traced back to Roman military exercises but Artistic apparatus such as the high bar and parallel bars emerged during the early 19th century. We still recognize some of the apparatus in modern gymnastics but the style and skill levels have changed dramatically.
Mens Artistic gymnasts compete on six apparatus, two of which are shared with their female counterparts and the other four being male-only.
Floor
High Bar
Pommel Horse
Rings
Parallel Bars
MAG gymnasts perform floor routines without music but are still expected to show off multiple tumbling passes just as the WAG gymnasts would.
The other apparatus requires a lot of upper body strength and up to 40 hours of training per week at the highest level.
Pros: MAG is hugely popular around the world in the same way WAG is. Olympic fame, big brand endorsements and patriotic glory are there for the most successful gymnasts. If your boy has high levels of upper body and core strength this could be for him.
Cons: Just as with WAG, Mens Artistic training will involve an extremely high number of intense training hours. With increased training comes increased training fees as well.
Rhythmic (RHY)
Another of the Olympic disciplines is Rhythmic. This one though is just for females at the international level. They use a combination of hand apparatus to showcase their dance, flexibility and coordination.
Rhythmic is popular around the globe but historically it has been dominated by Eastern European countries such as the Soviet Union and Bulgaria.
The five possible hand apparatuses available are:
Ribbons
Hoop
Rope
Ball
Clubs
Some routines are performed individually whilst others compete as a team.
Pros: Ideal for the flexible girl who can dance.
Cons: A high level of training hours will be needed each week so this is definitely a discipline that requires a lot of commitment.
Trampoline (TRA)
The trampoline discipline combines three disciplines (Trampoline, Tumbling and DMT) under one umbrella in most countries around the world. Most Tumbling gymnasts at a high level will not cross over to Trampoline or DMT but some will switch between Trampoline and DMT because of the similarities.
Trampoline itself is spectacular to watch and has been included in the Olympics since the year 2000. It has been around since the 1930s and has become a huge hobby in backyards around the world.
To be a pro-Trampolinist is a lot harder though!
Out of all the disciplines, Trampoline is the least similar to anything else and as a result, many clubs will have a recreational Trampoline program separate to gymnastics. Once you start out on a competitive team the hours will increase just like in other disciplines. A top-level trampolinist will train 5 to 6 times a week and even at youth level 20 – 25 hours of training per week is normal.
Competitions are performed either as an individual or synchronized with a partner.
Pros: The allure of Olympic glory is attractive. Trampoline is great for spatial awareness and there is less demand on conditioning and flexibility compared to Artistic gymnastics. Be under no illusion though, this is still a tough discipline.
Cons: The long hours will still mount up. There is much less in common with Artistic gymnastics so if a gymnast wants to still be on bars and rings, this is not for them.
Double Mini Trampette (DMT)
Trampolines' less well-known cousin is the DMT. It's smaller and is approached with a run-up, two big skills and then a landing on a regular mat.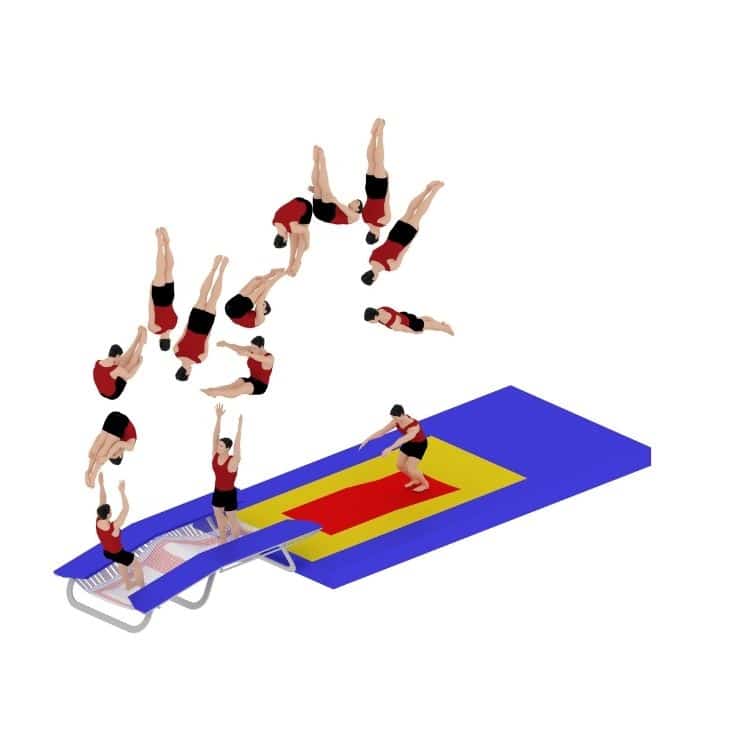 The somersaulting action required for DMT means that most participants will have trained on a full-size Trampoline at some point in their career. Maybe they have reached their potential on the full-size trampolines and are now crossing over because DMT is less intense. It's probably the least well know gymnastics discipline so very few gymnasts specialize in it early on.
Pros: DMT probably won't take over your life in terms of training hours. It's still a lot of fun flipping around though.
Cons: You're limited to one apparatus which could get boring quickly. If something goes wrong mid-way through a DMT routine the chances of injury are higher because of the very small target to land on.
Tumbling (TUM)
Also under the Trampoline umbrella is Tumbling. This relationship has developed more due to the ease of fitting a long tumble track alongside trampolines at competitions than anything else. The apparatus themselves are very different but the emphasis on jumping high and pulling multiple somersaults is still the same.
Tumblers perform a series of flips and somersaults along a 25-meter sprung track.
There's only one piece of apparatus so 20 hours of training per week is enough to reach a very high level of skill. The constant impact on wrists and ankles means that tumblers would find it hard to train for much longer each week. Inflatable rebound equipment like an Air Track helps tumblers train with fewer injuries.
Pros: Ideal for bouncy and springy gymnasts that like to flip around. Leg strength is important and some of the best tumblers are slight in build. Less training hours than artistic tumblers.
Cons: Tumbling is a non-Olympic discipline so the mainstream recognition is lower.
Acrobatic Gymnastics (ACR)
Acrobatic Gymnastics is also known as Sports Acrobatics and involves pairs or small groups of gymnasts working together to create balances mixed with dance and tumbling. The complexity and visual nature of the balances make it breathtaking to watch and top routines are worthy of gracing theatre stages on broadway or the west end.
Gymnasts can compete in same-gender or mixed groups something that is not common in gymnastics.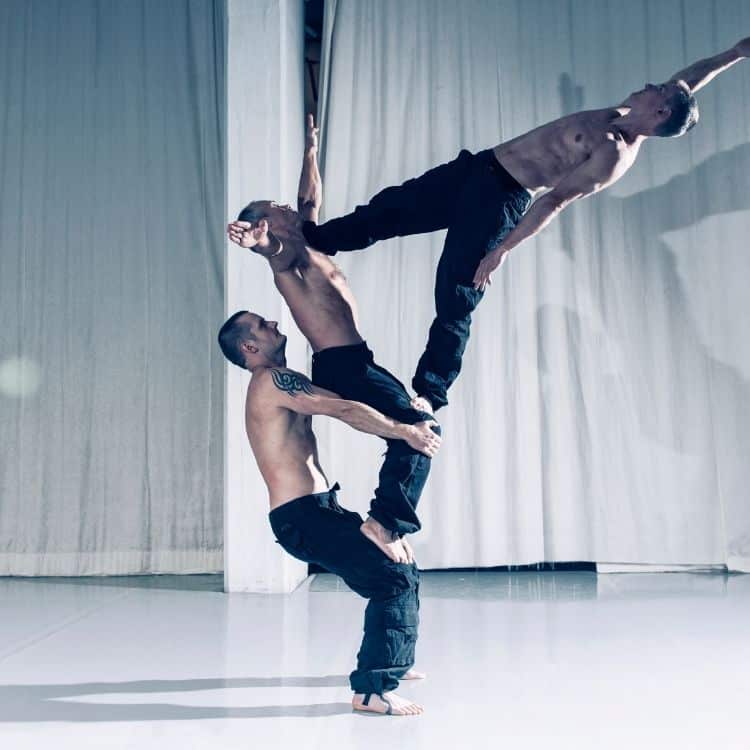 As a non-Olympic discipline, the World Championships and World Games are the pinnacles of the Acrobatic calendar.
Pros: Less intense than Artistic in terms of training hours. A career in Circus du Soleil awaits after retirement!
Cons: You have to be passionate about Acrobatics to do well. The cross-over to other disciplines such as Artistic is near impossible.
Team Gym (TG)
Team Gym is governed by European Gymnastics as it is rarely found outside of the continent. Scandinavian countries such as Norway, Denmark and Sweden dominate the discipline mainly because it originated there during the 1990s.
This super exciting discipline has three elements:
Floor – performed together as a group
Tumbling – streamed in quick succession down the track
Trampette – also streamed, the trampette is a mini trampoline approached with a run-up
Competitions are high energy and are very edge-of-your-seat stuff.
Pros: High level attainable on 10 – 15 hours of weekly training. The floor elements are not as difficult as Artistic but the spectacular tumbling and trampette skill level is very advanced.
Cons: Clubs that offer Team Gym are only mainly in Europe, especially the Nordic countries. There isn't even a World Championships let alone an Olympic event. The biggest competition is the Europeans.
Aerobic Gymnastics (AER)
Originating the USA in the 1980s, this discipline combines movement patterns and gymnastics with high-intensity dance. Competitively Aerobic Gymnastics is governed by the FIG however the creators of the sport, the USA do not recognize it as an official gymnastics discipline which is a little ironic.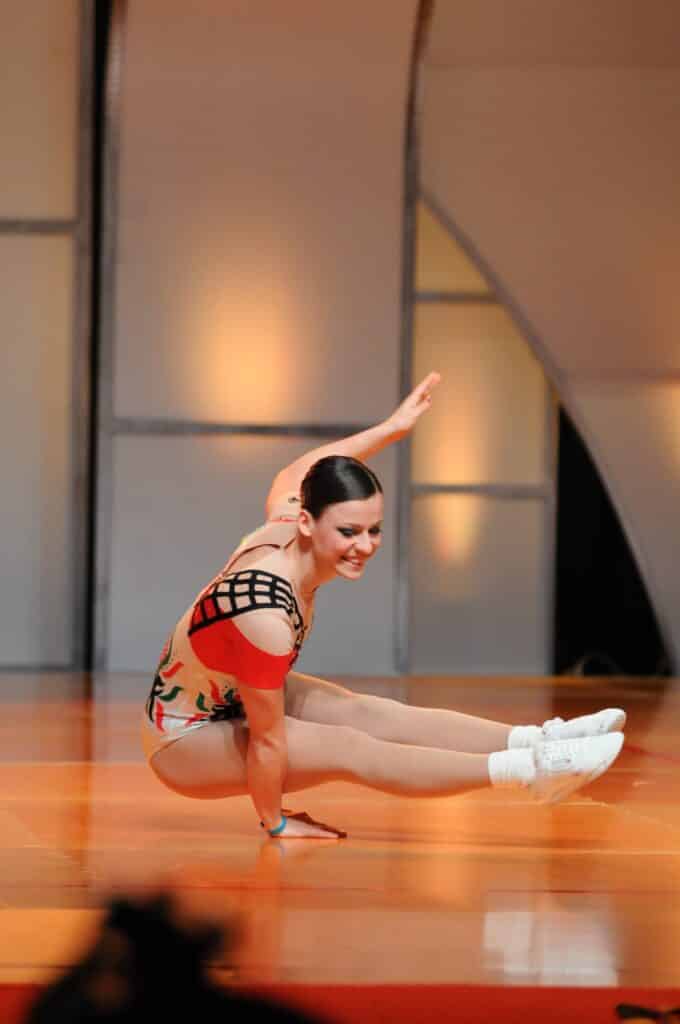 Participants have to be extremely fit however the level of gymnastics skills are way less than other disciplines.
Pros: Great fun and the fitness levels required will set you for life!
Cons: One of the least recognized disciplines and the level of gymnastics is minimal in comparison.
Parkour (PKR)
Parkour is a very new addition to the official FIG disciplines, being added as recently as 2017. The move caused some controversy among the Parkour community who resisted the involvement of the 'establishment' organization.
The idea of Parkour is to travel around often urban environments in a fast manner using rolls, flips, vaulting and swinging. The similarity with traditional gymnastics is obvious, though Parkour is usually outside and without any safety mats or assistance.
Being a relatively new discipline, finding a professional gymnastics facility that offers Parkour is harder compared to more traditional disciplines such as Artistic. However, it is becoming more popular as gyms realize the appeal to new customers that may not want to learn traditional styles of the sport.
With the increase in governance comes new organization of international events. There is now a World Cup and a planned World Championships but no Olympic event… yet.
Pros: Great for people that want a less rigid approach to gymnastics. There is an emphasis on creativity and the freedom to explore. Ideal for teenagers and young people that don't want to commit to huge training loads.
Cons: Limited competitive opportunities at local levels because the sport is still relatively ad hoc in many places around the world. Harder to find officially affiliated setups in pro facilities as many in the community are resisting that level of governance and this is an outdoor sport after all!
Final Thoughts
If you are wondering which gymnastics discipline is the easiest, check out my article here which answers exactly that question!
Latest Articles: