If you are based in the UK but need gymnastics equipment for home use, there are plenty of choices. Some major equipment brands are based in the UK, whilst others are US companies with a global reach.
In this article, I will give you a rundown of the brands I would recommend for home gymnastics in the UK. Because I am based in London, these recommendations are based on the actual equipment I use in professional gymnastics facilities here in the UK.
Let's get into this!
Table of Contents
What do I need for gymnastics at home?
Recreational gymnasts and people doing gymnastics just for fun will usually have bars, a beam, an inflatable air track and mats at home. Most people are restricted by space at home so they won't have everything and will prioritize their equipment by what they need the most.
For example, balance beams are great at home, but only girls compete on the beam so boys might prioritize something else.
There are lots of accessories for gymnastics at home such as pull-up bars, paralletes, sliders and resistance bands. In this article, I will just concentrate on the core equipment that is most popular at home.
Which brands of gymnastics equipment are popular in the UK?
The following brands of equipment are found in professional gymnastics facilities across the UK. Some will have products suitable for home use whereas others only cater for clubs, leisure centers and schools.
Gymnova
Continental
Tracks 2000 / My Home Gymnastics
Air Track Factory
Gym Aid
Speith
Nissen
For home equipment, lots of people in the UK use Amazon especially to find cheaper prices. Most of the big brands don't sell their products on Amazon so the most popular UK gymnastics brands on Amazon include:
Best Bars in the UK – My Home Gymnastics
If you are looking for a high-quality set of bars for home use in the UK, then the My Home Gymnastics High Bar is a sensible choice. It's adjustable to 190cm which is higher than many of the cheaper bars on the market.
I also like the fact it is made using the same materials as a bar found in a professional gymnastics facility. Uneven Bars are fiberglass with a wooden veneer to finish and having the same type of bar at home and gym, will help young gymnasts practice using good technique. I use this exact bar in the gym I work in and it is solid and well made so if it can survive the intensity of hundreds of kids per week, it will do great at home. It will set you back over £500 and bear in mind the mat is not included.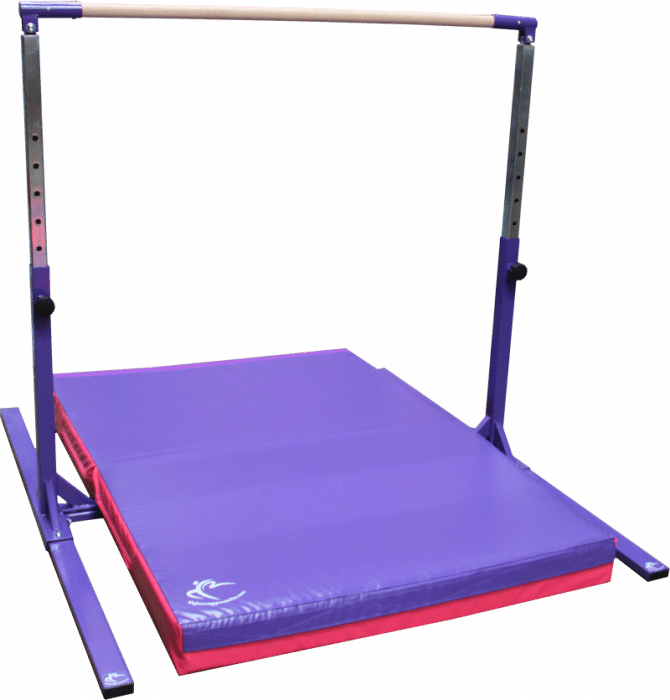 Best Alternative Bars UK – FB Sport
If you want a decent bar on a lower budget, then FB Sport is my recommended option for gymnastics equipment at home in the UK. The FB Sport adjustable bar folds away so it's great for storing away when you've finished using it.
It's got 6 contact points with the floor to help with stability and the double lock mechanism reduces the chances of the bar adjusting itself when in use.
An FB Sport bar costs a fraction of the price of other big brands and you should be able to pay less than £100 online. Use the code COMPLETEGYMNASTICS for a 10% discount on their website.
Best Air Track in the UK – Air Track Factory
Air Track Factory are well known for their high-quality products. They are another brand that I use extensively in the gym and I love to use the inflatable Tricking Floor to teach tumbling.
Our Tricking Floor is 8 meters by 8 meters which is huge and very heavy. At home, I'd recommend at least 5 meters by 1 meters which is long enough for basic skills but it won't take up too much storage space. This will cost in the region of £450 and is sold through Gym Aid in the UK (lots of big companies sell through more local distributors)
Best Alternative Air Track UK – WelandFun
If your budget doesn't stretch to Air Track Factory, a cheaper alternative is WelandFun which is sold on Amazon. Although the price is around half of a similar-sized Air Track Factory product, the quality is still very good.
Customer reviews on Amazon are around 4.5 out of 5 and many customers comment on the durability and quality of the material.
A 5-meter WelandFun Air Track will cost around £210. There are even cheaper products out there but you will find with the cheapest air tracks the stitching and bounce decreases in quality.
Tumbl Trak Balance Beams and Mats
If you are based in the UK I recommend Tumbl Trak for balance beams and panel mats at home. Tumbl Trak is a US company that makes and sells high-quality equipment used both at home and in professional gym clubs around the world. Tumbl Trak is not the cheapest but is certainly worth investing in their products if you have the budget.

The Tumbl Trak Brianna Beam is a floor beam made to feel exactly like a beam in a professional gym. In fact, I use one in the gym to teach basic beginner beam skills before gymnasts get up on a full-size beam. A Brianna costs around £260 on Amazon but multiple Brianna's can be connected to make a full-length Beam.
The Tumbl Trak Laser Beam has brightly coloured lines to help control landings. It costs around £450 on Amazon.
If you are looking for a cheap Balance Beam at home, there are plenty of foldable beams just like the HOMCOM Balance Beam which costs around £35 on Amazon.
Cartwheel Mats are great because they show the hand and feet placements clearly for beginner gymnasts. On the reverse, you will often find a hopscotch pattern or a straight beam line printed like the Tumbl Trak Cartwheel Mat pictured, so there are two uses for the same mat.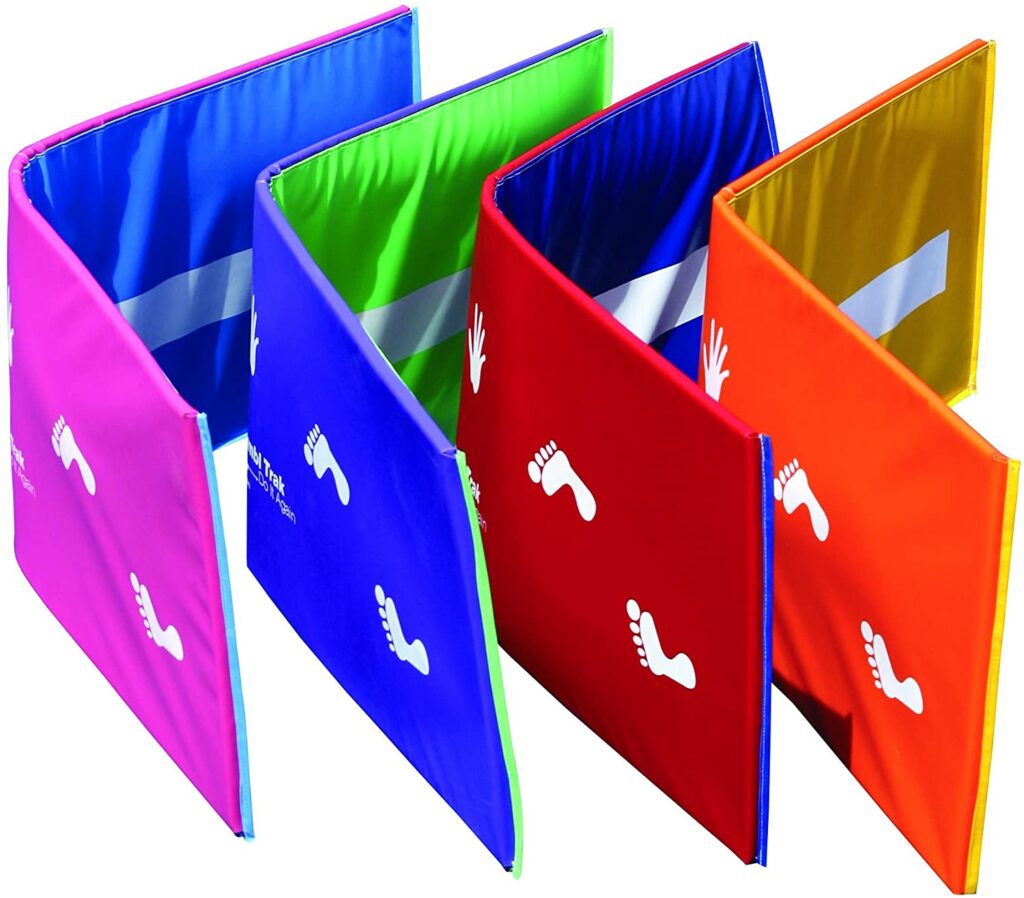 Final Thoughts
There are lots of good quality choices for home gymnastics equipment in the UK. Stick to one of the major brands such as Tumbl Trak or Air Track Factory if you want equipment that will last but be sure to compare similar products on Amazon as you can still purchase good quality for a fraction of the price.
If you need help on what to practice at home check out my new guides to rolling, vault and bars.
Latest Articles