It is very tough to make money as a gymnast. If you are fortunate enough to earn the equivalent of a full-time wage you will have done very well. In recent years a handful of very successful gymnasts have made a huge amount of money but this is only a tiny percentage of gymnasts and the vast majority will make very little or even no money at all.
Being a professional gymnast is extremely tough, especially as the financial rewards are usually very low. Let's dive into how gymnasts can try to make money.
Table of Contents
Do gymnasts get paid?
This depends on whereabouts in the world you live. Typically in Western countries, gymnasts are not paid a salary. In fact, the opposite is true – even elite gymnasts will need to pay coaching fees and membership costs to their club in order to train.
If a gymnast turns pro they will rely on corporate donors and sponsorships or if they take the College route in the USA they can now take advantage of their NILS to make money.
Some countries outside of the West have state funds that pay salaries to gymnasts such as China and Russia. But these systems are in place to help produce international gymnasts and bring success rather than help the long-term welfare of a gymnast. Once a gymnast retires, the system quickly forgets them.
How can you make money as a gymnast?
Traditionally gymnastics has not been a sport where athletes can make a lot of money but the rise of social media and the global popularity of gymnastics has benefited many gymnasts in recent years.
Gymnasts can make money in the following ways:
Government/state funding
Sponsorship
Endorsements
Scholarships
Prize money from competitions
Media appearances
Social Media such as YouTube
Media rights such as books
The only gymnasts who will really be able to make money in any of these ways are the ones at the very highest level. If a gymnast is competing at a lower level their earning potential will be next to zero.
The US Gymnastics System
In the US, Gymnastics is considered a mainstream sport, and competitions are regularly televised. This brings in large levels of sponsorship and endorsement opportunities not found in many other countries around the world. The policy relaxation by the NCAA in regard to gymnasts earning from their NIL (Name, Image, Likeness) has opened up even more opportunities in the USA for earning money as a College gymnast.
However, the high levels of corporate money in US Gymnastics means that the government doesn't provide any state funding for elite gymnasts. Even their Olympic gymnasts rely on corporate donors and sponsorship to travel to the Olympics whereas many other countries will cover the costs involved for travel and training.
In some countries, gymnasts with a real chance of podium success will receive a government-backed salary to ensure their gymnasts can concentrate on training and having the best possible chance of success at the highest level. Russia, China, and other countries that place a high value on patriotic success will have a system like this.
The reality for those involved in Gymnastics is that there are very few regular salaries or contracts up for grabs as there would be in other mainstream sports. In fact, many gymnasts around the world will have to pay for their own coaching, equipment, and travel costs just to stay competitive.
How much money can gymnasts make?
From Social Media
Nile Wilson, the British Artistic Gymnast grew his YouTube Channel to a whopping 1.4 million subscribers whilst also training as an elite gymnast. Based on his viewing figures and regular content he could generate around 175,000 – 200,000 views per day on his YouTube channel alone.
This would convert into an estimated $1,500 per day through the monetization and ads on his videos.
There are a number of factors that affect earnings on ads (location of the viewer, engagement, etc) but it's safe to say that Nile has created a very successful way of earning money as a gymnast.
Other gymnasts with a huge social media following are:
Simone Biles 3.9 Million Instagram followers
Livvy Dunne 7.4 Million Tik Tok / 3.9 Million Instagram followers
Whitney Bjerken 1.5 Million YouTube Subscribers
Laurie Hernandez 1.4 Million Instagram followers
Jordyn Wieber 600,00 Million Instagram followers
From Competition Prize Money
| | | |
| --- | --- | --- |
| Competition | Male Gold Prize Money | Female Gold Prize Money |
| Artistic World Championships 2017 | $5,700 | $5,700 |
| Rhythmic World Championships 2017 | n/a | $5,700 |
| Trampoline World Championships 2017 | $5,700 | $5,700 |
| All Around World Cup, Birmingham (UK) 2019 | $12,000 | $12,000 |
| American AT&T Cup 2016 | $14,500 | $14,500 |
All figures are in USD
Prize money for Olympic gymnasts (ranked by country)
Gymnasts that win the ultimate prize – an Olympic medal, are often rewarded by the government as recognition for their success. Whilst the IOC doesn't hand out prize money themselves, pretty much every country in the world pays their gymnasts per medal won. Different countries have their own varying level of remuneration which we have converted to US dollars for quick comparison and there are some surprising discoveries (all figures are correct at the time of writing).
| | | | | |
| --- | --- | --- | --- | --- |
| Country | Training Salary | Gold Medal | Silver Medal | Bronze Medal |
| Singapore | | $1,000,000 | $500,000 | $250,000 |
| Kazhakstan | | $250,000 | $150,000 | $75,000 |
| Russia | | $67,000 | $42,000 | $29,000 |
| France | | $55,000 | $22,000 | $14,000 |
| China | | $31,400 | $23,600 | $12,500 |
| USA | | $25,000 | $15,000 | $10,000 |
| Germany | | $22,000 | $17,000 | $11,000 |
| Australia | | $15,700 | $10,500 | $7,900 |
| Canada | | $15,000 | $11,000 | $8,000 |
| UK | $55,000-$85,000 | $0 | $0 | $0 |
Interestingly the UK doesn't pay any bonuses at all for Olympic medal success but government-backed funding for their gymnasts does cover a regular salary leading up to the games.
Surprisingly, some of the highest medal bonuses are found in Kazakhstan, a relatively poor country whilst the USA and Australia pay their gymnasts more modest amounts despite their relative wealth. It should be noted that these bonus payments apply to all athletes that represent their country at the Olympics, not just gymnasts. These medal bonuses are very small for some sportsmen and women compared to what they would normally earn. For example, Tennis and Football (soccer) players can earn millions per year whereas for gymnasts these bonuses represent life-changing sums of money.
Several countries are also known to reward successful athletes with luxury items like cars and even houses if they are able to bring glory home from the Olympics.
Can college gymnasts make money?
Until July 2021 collegiate gymnasts were required to be strictly amateur by the NCAA in America. This meant that elite gymnasts, some of whom had competed in the Olympics were unable to profit directly from their success.
However, a policy change was agreed in 2021 allowing NCAA gymnasts to make money from their name, image and likeness (NILs) and still be allowed to participate in a college program. Prior to 2021, the NCAA was strictly amateur. In other words, students could not be paid to be competitive gymnasts.
There are still college-specific policies and state-specific laws that may override the NCAA policy but the more relaxed approach has meant that young gymnasts (especially female) can now benefit financially from huge social media followings and influencer-type endorsements.
Sponsorships can range from big brands like Nike and Reebok to leotard brands like GK or Destira.
The NILs policy change in 2021 has revolutionized college gymnastics and many gymnasts are now earning money that will set them up for life. It also means they no longer have to wait till after a potential Olympic selection to 'turn pro'.
Who is the highest-paid gymnast?
Simone Biles $2.5 million (2021)
Simone Biles is the most successful US gymnast ever including five all-around world titles and the 2016 Olympic all-around gold medal. As a result, she has become a global icon and has secured endorsement deals with brands such as Nike, United Airlines, and Beats by Dre. Whilst it's rare for gymnasts to reach this level of fame, Simone Biles has taken what's possible to another level.
The majority of her income is not directly from competitions (she would have earned around $100,000 for her medals at Rio 2016). Instead, she has used this competitive success to build her brand and net worth.
Because of her ability to make a substantial amount of money from her brand, Simone Biles choose not to go down the NCAA route which at the time would have meant missing out on a lot of commercial opportunities.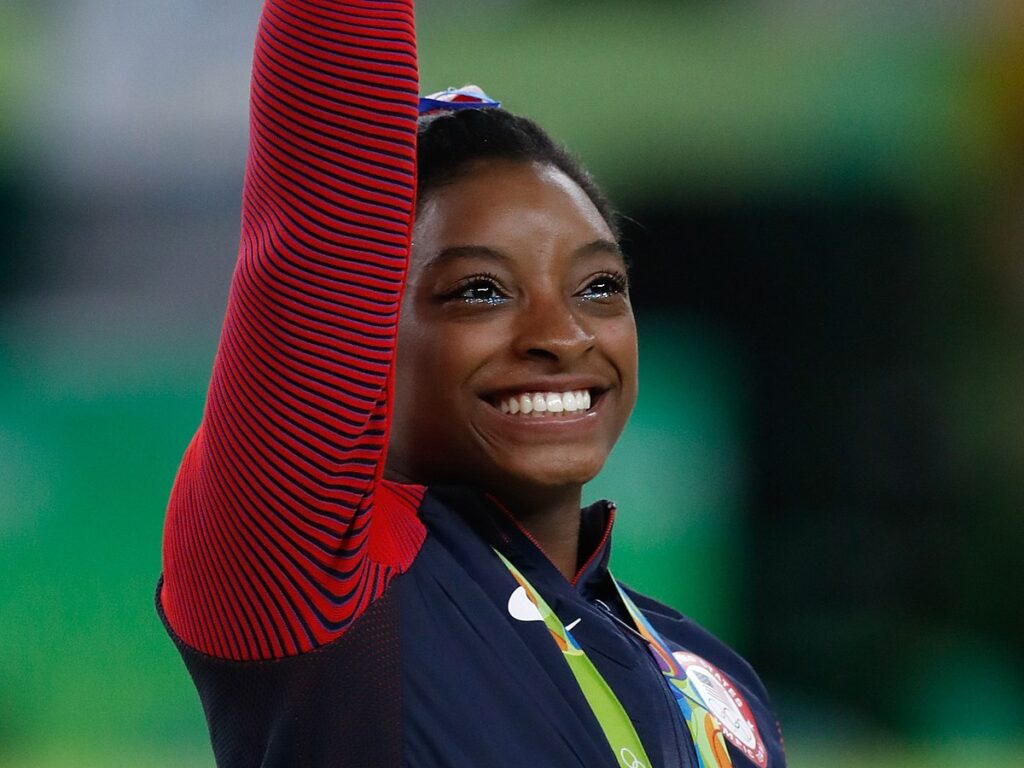 Simone Biles at Rio 2016. Credit Wiki Commons
Final thoughts
For the few gymnasts that are successful at the highest level, exciting financial rewards await them (especially in the US). However, the most well-paid gymnasts earn through endorsements and selling their 'brand' as opposed to having a regular salary. If you are an aspiring gymnast you should stay focused on the love of the sport rather than becoming rich!
Sources
Prize Money in Sport – BBC Study https://www.bbc.co.uk/sport/40300519
International Olympic Committee (IOC) https://olympics.com/ioc/overview
Haris Dulin Compensation in Elite Gymnastics: SPLITTING THE DIFFERENCE: COMPENSATION and
ECONOMIC EXPLOITATION IN ELITE GYMNASTICS
Latest Posts