For those starting their journey into the fascinating world of competitive girls' gymnastics, Level 1 is the foundation, the building block upon which all other skills are built. This stage is where future champions take their first leap, and enthusiasts discover their passion.
In this article, we will delve into the essential Level 1 gymnastics skills list that every budding female gymnast should be familiar with. Whether you're aiming for Olympic gold or simply exploring a new hobby, mastering these skills will set you on the right path.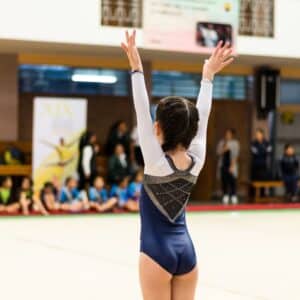 Table of Contents
What is Level 1 Gymnastics?
Level 1 is part of the USAG Development Programme for female gymnasts wishing to pursue a career a Women's Artistic gymnastics. Level 1 is the first level out of 10 however, it is an optional level and therefore the first two levels are often not competed and are just used by clubs and coaches to prepare gymnasts as young as three years old.
Other competitive disciplines such as Men's Artistic also use a level system to develop young gymnasts but the female system is the most popular and well-known. Therefore when people refer to level 1 gymnastics they are usually referring to Women's Artistic which comprises Floor Exercise, Vault, Uneven Bars and Balance Beam.
Level 1 Floor Skills
A level 1 gymnastics floor routine must include the following skills:
The floor skills on level 1 are fairly straightforward. Most gymnasts, even those in a recreational program training for one hour per week, would be able to master them. However, what's important to remember is that these skills are the building blocks for all future skills.
Excellent form and shaping are essential or it will severely impact future progression.
Level 1 Beam Skills
A level 1 gymnastics beam routine must include the following skills:
Jump to Front Support Mount
Arabesque to 30 degrees
Needle kick
Relevé Lock Stand
Stretch Jump
Cartwheel to 3/4 Handstand Dismount
Level 1 beam skills are straightforward, much like the floor at this level. For many young girls at this stage, the priority is becoming confident on a full-height beam.
Level 1 Bar Skills
A level 1 gymnastics bar routine must include the following skills:
Pullover
Cast
Back Hip Circle
Sole-Circle Dismount OR Underswing Dismount
Uneven bars are often the toughest event for most girls as they require a lot of strength even at level 1. Pullover and Back Hip Circle both require good upper body strength and body tension. At this early level, they are the two skills that will separate the girls who will be able to move on or not.
Investing in a home gymnastics bar is a popular way to ensure your daughter has enough time to practice outside of the gym and develop the strength needed to master level 1 bar skills.
Two of the most popular training bars for home are: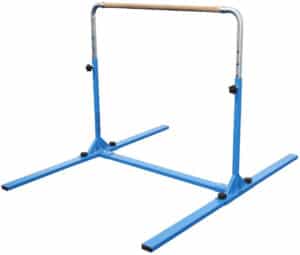 Level 1 Vault Skills
At level 1 gymnasts must perform the following vault:
Stretch Jump onto Mat then kick to Handstand Flat Back
The Handstand flat back is a progression towards the Handspring vault. When performed well the gymnast will show an excellent handstand and controlled fall into a hollow dish.
Frequently Asked Questions
What is a level 1 gymnast?
A level 1 gymnast is working towards the skill requirements for level 1 in the USAG Development program.
How do you learn level 1 gymnastics at home?
It's possible to learn the skills for level 1 at home if you invest in a training bar, balance beam and gymnastics mat. However, it is always safer to learn these skills in a recognized gymnastics facility with a trained coach. If a gymnast is serious about becoming a competitive gymnast and working up through the levels then it is essential to join a gymnastics club from young age.
What do you learn in level 1 gymnastics?
Level 1 Women's Artistic gymnastics covers floor, vault, uneven bars and balance beam. You learn basic skills such as Handstand and Cartwheels which serve as a building block for more advanced skills.
What age is level 1 gymnastics?
There is no minimum age for level 1 as it is not usually competed. Many clubs will have gymnasts at four and five years old working towards level 1.
How do you become a level 2 gymnast?
To become a level 2 gymnast you should first master all of the skills on level 1. Focus on performing the skills with great form and excellent technique. Also work on building up your strength and flexibility as this will help you achieve the level 2 skills.