Gymnastics is a popular sport for both kids and adults, and having a gymnastics mat at home provides a safe and convenient training environment. However, with so many options available on the market, it can be difficult to know which mat is right for you. In this article, we will guide you through the key considerations you should make when choosing a gymnastics mat for home use.
This article concentrates on gymnastics mats NOT inflatable mats. If you're looking for information on inflatables we have a whole section on them here.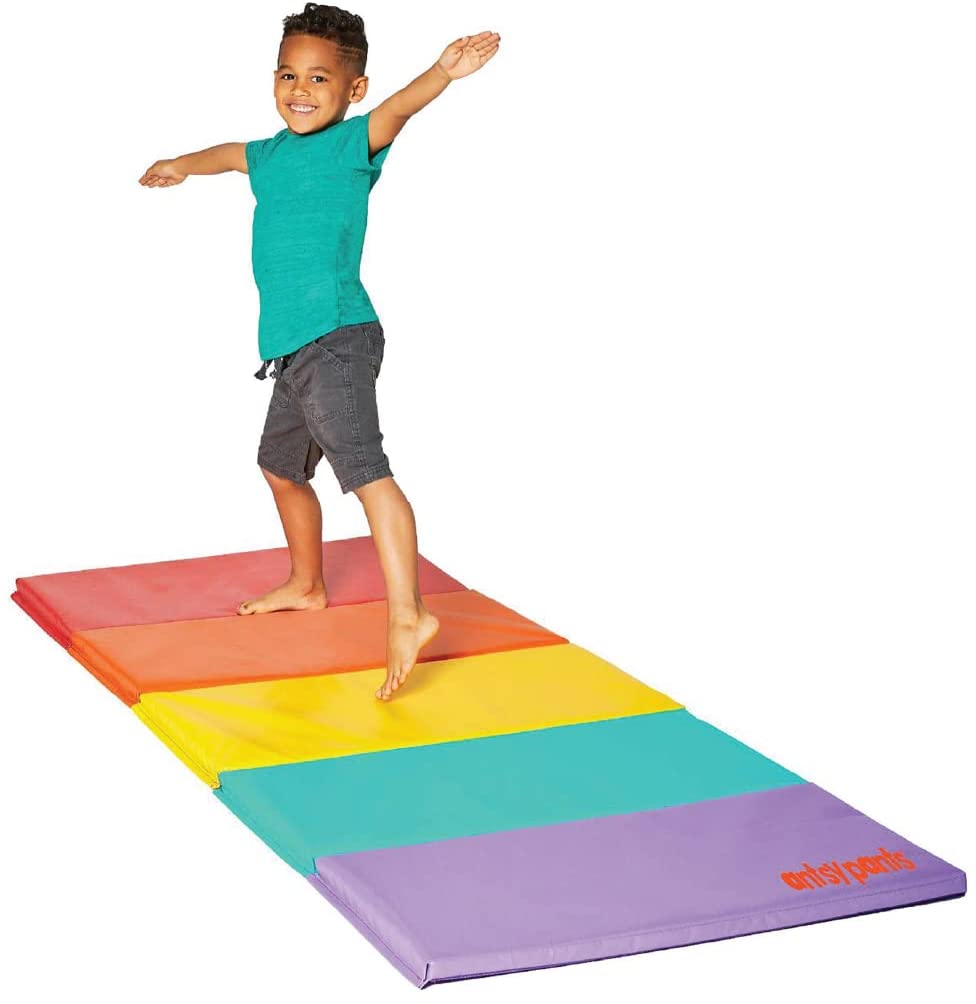 Table of Contents
Size and Dimensions
When choosing a gymnastics mat, the first thing to consider is the size and dimensions of the mat. Make sure to measure the space where you want to place the mat, taking into account any obstacles such as doors or furniture. Then, consider the size of the mat in relation to your own body size and the exercises you will be doing on it. A larger mat will provide more landing space and stability, but will also take up more room.
Thickness
The thickness of a gymnastics mat is also an essential factor to consider. A thicker mat will provide more cushioning and absorb impact better, making it a better choice for high-impact exercises. However, a thicker mat will also take up more space and may be more challenging to move and store. A thinner mat may be sufficient if you use the mat for low-impact exercises such as stretching or yoga.
If you're looking for a simple gymnastics mat to use at home for things like cartwheels, handstands or rolling, you'll need a mat around 1.5″ thick.
Any thinner and you will not get adequate protection or cushion on landings.
Mats that are 3″ or thicker will stop gymnasts from being able to perform normally as they are too squashy. These sort of thicker gymnastics mats are used as landing or crash mats. They are often found under balance beams or in vault landing areas but not really for home use.
Material
Gymnastics mats are made from various materials, including foam, PVC, and vinyl. Foam mats are soft and lightweight, but may not last as long as other materials. PVC and vinyl mats are more durable, but can be heavier and less flexible. Consider the type of exercises you will be doing, as well as the weight and frequency of use, when choosing a material for your gymnastics mat.
Dollamur gymnastics mats are covered in carpet and are used in professional gyms around the world. They are my best recommendation if you are looking for a gymnastics mat for home use.
Check out the latest prices for Dollamur Mats on Amazon here.
Portability
If you need to move the gymnastics mat frequently, consider the weight and portability of the mat. Some mats come with handles or can be folded for easier transportation. Additionally, consider whether the mat is easy to store when not in use.
Mats like the one below from We Sell Mats fold up easily making it easy to carry and store. Check out the latest price on Amazon here.
The hook and loop mean you can potentially join two or more together rather than buying one larger less portable gymnastics mat.
Safety Features
Safety should always be a top priority when choosing a gymnastics mat. Look for mats with non-slip surfaces, reinforced edges, and sturdy construction to ensure stability and prevent accidents. Additionally, consider the flammability of the mat, as some materials are more flammable than others.
Mats are commonly made from PVC because its comfortable to jump, roll or tumble on however to will slip especially on laminated or shiny floors. Ideally, PVC mats will have an anti-slip surface on the bottom. Usually, they are grippier and less smooth.
Price
Finally, consider your budget when choosing a gymnastics mat. High-quality mats can be expensive, but investing in a durable, safe mat is worth it in the long run. Consider the cost in relation to the size, thickness, material, and safety features of the mat to find the best value for your money.
Amazon sells gymnastics mats for as little as $70 and whilst they can be surprisingly decent quality, higher-end mats tend to be thicker and safer. Be prepared to pay $200 plus for a simple but high-quality gymnastic mat for home use.
Those of you with any experience in gymnastics will already realize it is an expensive sport. A full-size, fully sprung gymnastics floor like those seen in the Olympics will set you back at least $30,000!
I've written in-depth about why gymnastics is so expensive as many often ask that exact question! Check out the article here.
Conclusion
In conclusion, choosing the right gymnastics mat for home use requires careful consideration of size, thickness, material, portability, safety features, and price. Take the time to do your research and choose a mat that will provide you with the support and stability you need for your gymnastics training.
To find out what my best six gymnastics mats are, read this article here.