Simone Biles, the most decorated American gymnast of all time, shocked the world when she withdrew from several events at the 2020 Tokyo Olympics, citing mental health concerns. This raised major questions about whether the 24-year-old superstar had retired from the sport she has dominated for nearly a decade.
Was Simone Biles retirement a permanent decision?
However, recent performances show Biles is back with her sights set on the 2023 World Championships and the 2024 Paris Olympics.
Table of Contents
Tokyo Struggles
Regarded by many as the greatest gymnast of all time, Biles entered Tokyo as a heavy favorite to win multiple gold medals. However, after withdrawing during the team final over a dangerous case of "the twisties," she subsequently pulled out of the all-around, floor exercise, vault and uneven bars finals.
Biles later said the enormous pressure leading up to Tokyo had impacted her mental health and caused her to lose confidence and feel lost in the air on her signature skills. Her decisions brought international attention to the topic of athletes' mental health.
Simone Biles Retirement Post-Tokyo
After returning home from Tokyo without medaling individually, Biles was unsure if she would ever compete again. She took time away from the gym to heal both physically and mentally. She also completed a highly successful Gold Over America Tour across the country.
In interviews, Biles left the door open to continuing her career, but stressed she was in no rush to make a decision. She talked of possibly training new skills to challenge herself, but noted she still struggled with the "twisties" on some of her signature elements like the double-twisting double back.
Biles won a team silver medal from Tokyo, but missing out on individual golds for the first time in her career raised speculation that the most decorated World Championship athlete was ready to retire at age 24.
2023 Return
After two years away from major competition, and now married to Jonathon Owens, Biles announced in early 2023 that her goal was to return to training at her family's gym in Texas under coaches Cecile and Laurent Landi. She wanted to slowly work her way back on all four events with an eye towards returning to competition that summer.
By Spring 2023 she was training seriously and had committed to working towards a competitive comeback in August 2023.
The 2023 US Classic was held at the Now Arena, Illinois and Biles took the All Around Gold as well as top spot on Balance Beam and Floor. Not many gymnasts could emulate such a comeback after a lengthy lay off but despite some minor faults, Biles looked in excellent condition. The US Classic is considered warm-up event for the Nationals, held in late August 2023.
Biles followed up her Classic performance by again winning the 2023 U.S. National all-around title in August and potentially qualifying to the Worlds team. She showed off her unparalleled difficulty, performing the double-double dismount on beam and triple-double on floor exercise.
Biles had stunned the gymnastics world by performing the incredibly difficult Yurchenko double pike vault in podium training at the US Classic. She went on to hit the vault cleanly in competition along with solid routines across all events, easily winning the all-around title.
The Yurchenko double pike had only been done by a handful of men before and never by a woman in competition due to its complexity. Biles' successful execution of it sent a clear message – she was back in top form and ready to push herself towards the 2023 World Championships and potentially the 2024 Paris Olympics.
Targeting Paris 2024
After struggling at Tokyo 2020, the revived Biles appears ready to maintain her long-standing dominance and build on her legacy as the greatest gymnast of her generation and potentially all-time.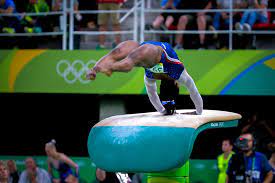 However, the road to Olympic qualification is a long and tough one, especially for a spot on the ultra-competitive US Women's Team. She will need to perform well at the 2023 Worlds in September 2023 in Belgium and even then selection isn't guaranteed.
Challenges to a Comeback
However, Biles still faces challenges to cementing a full comeback:
Mental Health – While she has made immense progress, Biles says that keeping her anxiety under control is still a day-to-day battle. She will need to utilize sports psychologists and other resources to be competition-ready.
Injuries – She is battling minor injuries including a hyperextended knee from her floor landings. Staying healthy is key as she is now 26 years old.
Field Difficulty – With Biles taking a break, the difficulty of routines in women's gymnastics has progressed rapidly. Her comeback will require learning multiple new skills just to remain competitive.
Olympic Selection – Even if she is at top form, Biles will need to compete well at 2023 Worlds and 2024 Nationals to secure a spot on a very deep U.S. Olympic team.
Motivations for 2024
After coming so close to walking away forever in Tokyo, what motivates Biles to continue her pursuit of Olympic glory?:
Cementing her legacy – She would be the oldest American Olympic gymnast in 60 years and could become the first woman in over 50 years to repeat as Olympic all-around champion.
Hitting her peak – Biles believes she is capable of even harder routines than in 2016 and wants the chance to show her full potential after struggling in Tokyo.
Inspiring others – Biles wants to continue using her platform to advocate for mental health awareness and speak openly about emotional struggles.
New challenges – Pushing her limits by adding never-before-done skills like the double pike vault clearly excites Biles in her training.
Conclusion
Biles' career has already redefined what is possible in women's gymnastics. If she can maintain her elite skills through 2024 and claim additional Olympic hardware, she will likely go down as the single greatest gymnast the sport has ever seen.
After her lowest moment in Tokyo, Biles' comeback has already proven tremendously inspiring. If she represents Team USA again in Paris 2024, the world will be watching and cheering her every step of the way.
Latest Posts