Leotards are an essential piece of kit for gymnasts of all ages and abilities as they are tight-fitting and help coaches support gymnasts safely. Unlike years ago, there are now loads of cool and colorful designs to pick from, especially online! But picking a leotard for your child to wear at class can be a bit of a minefield!
I've coached thousands of gymnasts so have seen a huge range of leotards both good and not so good! I've also sold hundreds of leotards in our gym to our own gymnasts and know what to look out for in a good leotard.
In this guide, I've picked out a selection of the best leotards available to buy online based on quality, style and budget.
United All Around has a huge range of over 30 leotards for girls. The designs are awesome, one of my favorites is the Turquoise Flower pictured below which also has Crystal Rhinestones. Unlike some cheaper leotards, the Rhinestones are actually attached rather than printed on. Size-wise most of their leotards are available for toddlers right up to 15 years old plus.
Prices will vary depending on the size but smaller leotards are just over $20 with the larger ones around $35. The price range is very good value for money considering United All Around leotards are well made and use thick and good quality fabric.
Young gymnasts absolutely love these leotards from GK Elite! All of the popular characters are in the range including Anna and Elsa, Rapunzel, Minnie Mouse and Cinderella (pictured below). These are officially licensed from Disney which you would expect from the biggest sellers of leotards worldwide, GK Elite.
All of their leotards are made in the USA and are well made and comfortable for the vast majority of gymnasts. A Disney-themed leotard will cost you around $20 on Amazon.
Vieille has a fantastic range of designs that are priced between $6.99 and $14.99 which is great if you're on a tighter budget. All of the designs are colorful and include prints such as Unicorns (see below), mermaids and floral patterns which girls especially will love. The colors are bright and the quality is still very good despite the lower price tag. Size-wise these leotards are aimed at 5 to 11-year-olds.
If you're looking for an alternative to a traditional leotard, a Biketard could be for you. A Biketard (also known as a leotard) is basically the top of a leotard combined with shorts all-in-one. It's less restrictive between the legs and saves having to buy separate shorts to wear over the leotard.
Some girls like the longer covering around the top of the legs whilst still having the range of movement needed to practice gymnastics. The Jeskids range is very good both in terms of quality and price (less than $20) and there are over 20 designs to pick from. They also send a free hair scrunchie with a matching pattern.
This particular leotard comes in various sizes, and it is ideal for toddlers because the shoulder straps are smaller and easier to get on and off. You have a choice of three colors – Pink, Blue or Black and at around $20 this is great value for younger gymnasts. The sparkles are printed on the fabric but for $20 you shouldn't expect real sparkles to be attached! GK Elite makes very good quality products and is a super popular brand in gyms all over the country.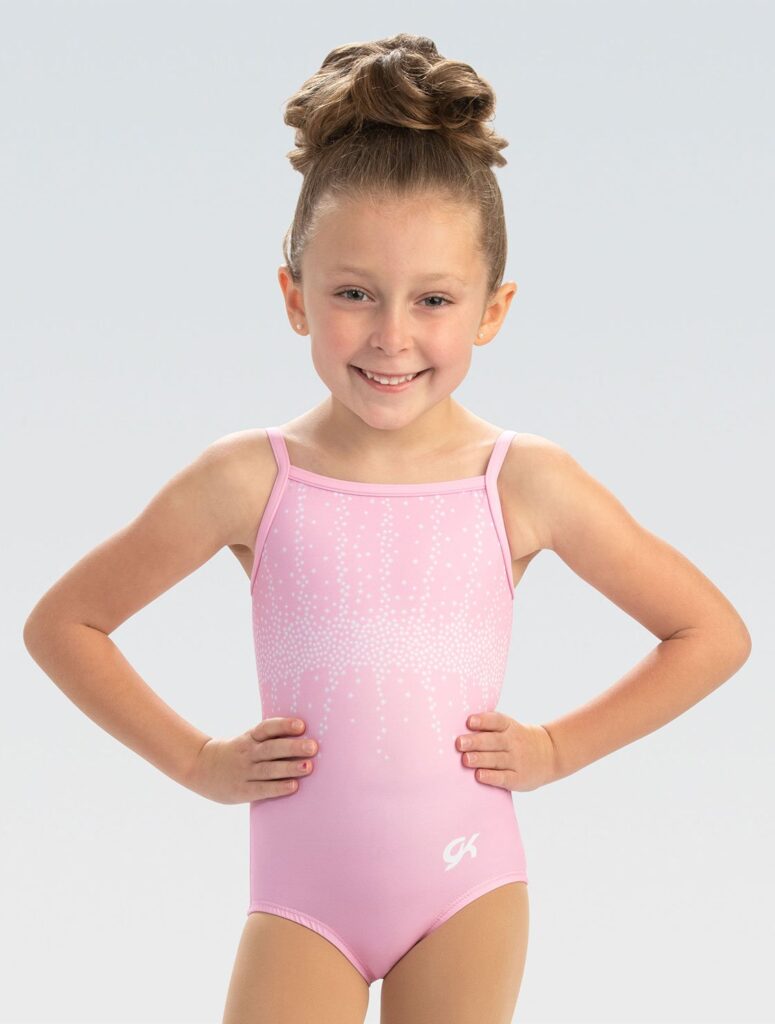 Best place to buy gymnastics leotards
If you're thinking 'where can I buy a leotard for gymnastics?' you have two main options – online or at a gym facility. Generally speaking, your online options will be far greater and cheaper, especially at Amazon. On the flip side however, most gym facilities will allow you to try a leotard on before you buy it. But you will probably pay a little bit more and have less to choose from. The other advantage of buying at your gym club is that any profit will go back directly to the club itself.
Walmart and Target are two big stores that stock cheaper leotards in the US. Their ranges are not as extensive as specialist brands but you can definitely pick up a good deal!
What are the best gymnastics leotards brands in the UK?
These are the most popular leotard brands based in the UK (all have international shipping available).
Milano
Quatro
The Zone
Little Stars Leotards
Decathalon
What is the best way to wash a gymnastics leotard?
To keep your leotard in the best possible condition follow these 6 steps when washing.
Turn the leotard inside out
Wash separately by hand
Use cold water with a small amount of detergent
Rinse straight away
Hang to dry
Do NOT use fabric softeners, iron, tumble dry or dry clean
Leotard fabric is usually delicate and will fade with repeated washing especially if you don't follow these steps. You should always check the manufacturer's instructions.
Latest Articles: