Gymnasts have a reputation for retiring really young compared to other sports but when do they actually retire? And are there any differences between nationality, gender or the type of gymnastics (discipline)?
In this article, I will use real facts and figures that have been researched by Complete Gymnastics to find out when gymnasts actually retire.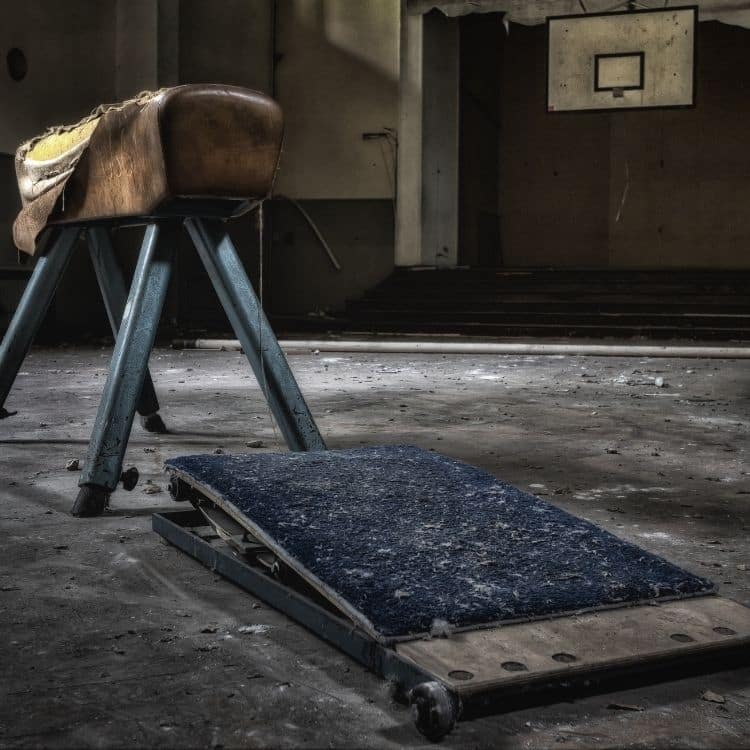 Table of Contents
What age do gymnasts retire?
Gymnasts that reach Olympic or world level have reached the pinnacle of the sport and are considered 'elite'. But this is a tough sport that places huge demands on the gymnasts mentally and physically and as a result, many elite gymnasts will retire at an age considered early in many other sports.
Most elite female gymnasts have retired by their early to mid-twenties. 
Most elite male gymnasts have retired by their mid to late twenties. 
There are some exceptions (see below) but they are few and far between and will usually keep going only because they still have a chance of success at Olympic or World level.
The Olympic cycle
The Olympic games take place every four years and for elite gymnasts, this will be the main focus of their training plan. As soon as a new Olympic cycle starts, they will be planning for which other competitions they will take part in and which skills they will be targeting to have ready (yes it takes that long!).
However, this means that it is a good time for gymnasts to reflect on how confident they are to make the next games and how well they think they will do.
Many gymnasts will decide that there is no point in starting to train for the next games and will announce their retirement.
Likewise in the lead-up to an Olympics, every country will have its own selection process and qualifying events. If an elite gymnast misses out on selection for the Olympics, this too can be a good time to retire.
If a gymnast has completed a really successful Olympics, they may choose to retire straight afterward so they can finish on a high point of their career. Either way, the Olympics is a real focal point for gymnasts and retirement decisions.
Case study – 2004 Athens Olympians
To find out when gymnasts retire here is an in-depth look at every medal-winning gymnast at the 2004 Athens Olympics. The medals could have been won as either an individual or as part of the team event. I have separated each table by discipline to help identify any differences between the type of gymnastics performed. The tables will also show on average when gymnasts from each nation retire.
Women's Artistic Olympic Medal Winners 2004
With only one gymnast still competing in her 30s, this table highlights the trend for female gymnasts to retire early in comparison with other sports. Women's Artistic gymnasts also have a significantly lower average retirement age than their male counterparts. Whilst this is only a snapshot, it shows that many of the successful Romanian gymnasts retired in their teens after having won team gold (Ponor being the exception). Carly Patterson also retired at 18 having won the individual all-around gold however her decision was also due to ongoing injuries.
Oksana Chusovitina did not medal at the 2004 Olympics but did compete, placing a disappointing 23rd on Vault. The Uzbekistani gymnast broke the mold of young gymnasts by still competing at the age of 46 in the 2020 Tokyo Olympics!
Men's Artistic Olympic Medal Winners 2004
* At the time of writing Marian Dragulescu had not retired.
The youngest Men's Artistic gymnast from 2004 retired at the age of 24 which in the female category would be considered 'old'. 14 out of the 28 medal winners still competed into their 30s whilst only one of the women's category did the same. A number of the male gymnasts, notably Dragulescu, Yovchev and Chechi announced retirements earlier in their careers only to come back out of retirement and compete at a high level once again. Understandably they would tend to narrow down their training onto one or two specialist apparatus. Dragulescu for example only concentrated on Vault and Floor Excercise in the latter part of his career.
Rhythmic Olympic Medal Winners 2004
The youngest retirements of all disciplines from 2004 were the Rhythmic gymnasts. If you are unfamiliar with Rhythmic, it's only competed by females and involves floor exercise routines with hoops, balls and rope. The focus is very much on elegance and flexibility rather than the power and strength needed for artistic gymnastics.
Flexibility is harder to maintain as you get older, and is a major factor in the retirement age of rhythmic gymnasts.
Final Thoughts
Gymnasts undoubtedly retire young when compared to other sports however the 2004 case study shows that male gymnasts continued longer than expected on average. As well as the obvious injuries and long training hours competition results will also play a huge part in a gymnast deciding when to retire. In some countries, the high cost of training and low financial rewards will also force gymnasts into retirement. Gymnasts start training from a young age but on average, only have a short time as a senior elite competitor.
Sources
JOURNAL OF COMPARATIVE RESEARCH IN
ANTHROPOLOGY AND SOCIOLOGY – Mara Stan
Latest Articles: