Most gymnasts have retired by their early twenties and many peak while still in their teens. There are many factors that make gymnasts retire so early in comparison to other sports. It is a tough sport with demanding levels of training from a young age and apart from a very few at the highest level, gymnasts will make very little money from the sport.
In this article, I dive in-depth into the reasons behind these early retirements.
Let's find out why so many gymnasts retire so early!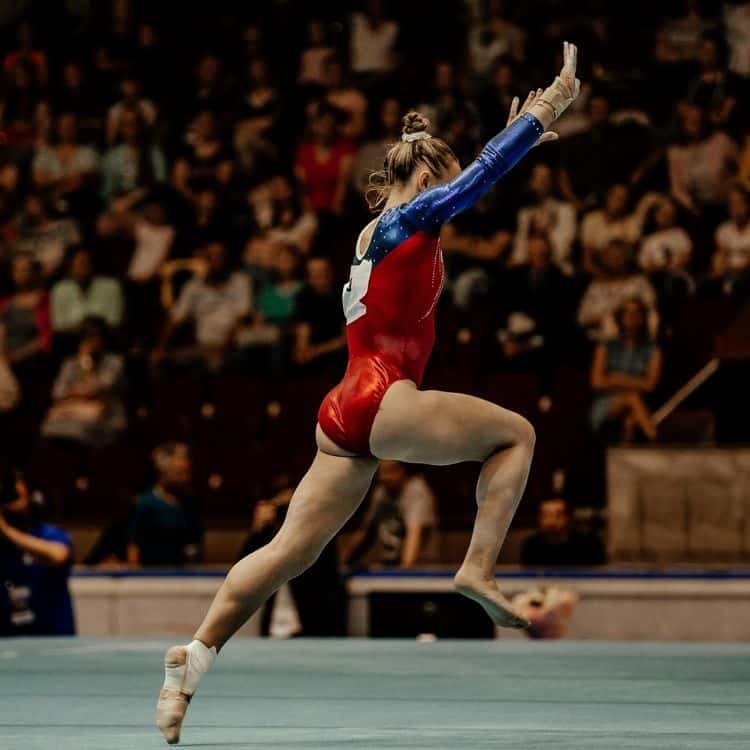 Table of Contents
What age do gymnasts retire?
Gymnasts that reach the Olympic or world level are undoubtedly 'elite' as they have reached the pinnacle of the sport. But this is a tough sport that places huge demands on the gymnasts physically and mentally and as a result, many elite gymnasts will retire at an age still considered 'prime' in other sports.
Most elite female gymnasts have retired by their early to mid-twenties.
Most elite male gymnasts have retired by their mid to late twenties.
There are some gymnasts that will continue for longer but they are few and far between and will usually keep going only because they are competitive at a very high level and still have a chance of success.
Long training hours for gymnasts
To reach an elite competitive level, gymnasts will have often begun training as early as 5 or 6 years old. Many professionals will recommend starting even younger to help develop gross motor skills such as balance and coordination. Although elite competitive gymnastics will typically start at around 9 or 10 years old, many hundreds of training hours will already have been put into training before this point.
Elite gymnasts will typically train for 35 – 40 hours per week which is the equivalent of a full-time job.
Gymnasts (and their families) have to literally allow gym training schedules to take over their life if they want to stand any chance of succeeding at the very top. The sacrifices are immense and many people will be unaware of the long training hours each week until they have a child enter into such a program.
The juggling act between training, education, and attempting to have a social life can be too much, and eventually, this level of commitment is a major reason for deciding to retire from elite gymnastics.
Different countries around the world have developed systems to combine education and long training hours. In the US the College System and Home Education work well. In Russia and China, Gymnastics training is considered part of the normal school day which is not usually the case in the UK where training usually fits around the school in the evenings or on weekends.
Is gymnastics mentally draining?
Training is repetitive and exhausting which takes away a lot of the 'fun' elements that would be associated with recreational-level gymnastics. Good coaches will try to build opportunities for less intense and more playful activities to help gymnasts enjoy their time in the gym, but this will have little impact on the tough training regimes.
This is a very mentally draining sport which results in many gymnasts retiring in their teens.
Some sportsmen and women compete every week (Football, Basketball, Baseball, etc.) and have opportunities to be successful regularly. Gymnasts, however, may only compete three or four times a year so if one event doesn't go well there is a prolonged period of reflection, self-doubt and eventually a lack of motivation.
The time spent training in the gym is often focused on getting that new skill ready for a routine. There will be pressure to improve and upgrade routines to stay competitive, often leading to mental blocks when attempting skills. 
Without a good team around you, gymnastics can be a very lonely sport.
Do gymnasts suffer from long-term injuries?
The constant impact on major joints such as knees, ankles and wrists often develops into recurring injuries that have to be managed by gymnasts, coaches and physios.
There is a greater awareness of managing gymnasts' bodies now than 20 or 30 years ago, however, the constant training takes a toll on every gymnast.
Common gymnast injuries include:
Anterior Cruciate Ligament (ACL) tears
Achilles Tendon strains and tears
Colles Fractures
Cartilage damage
Osgood Schlatters
Some injuries can be treated with help from physio and strengthening exercises or just by resting. More serious injuries will require surgery which still doesn't guarantee a full recovery. In the worst-case scenario, gymnasts are forced to retire as their body is unable to regain full fitness.
The ultimate dilemma for a gymnast is having to decide between long-term health and the desire for sporting success.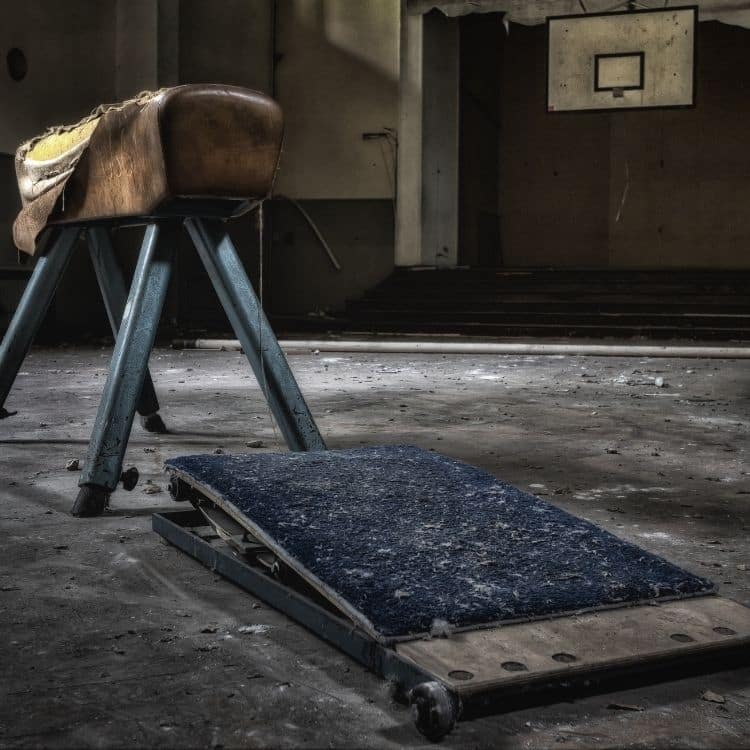 The average age of Olympic gymnasts (male v female)
Take a look at the ages of Olympic Champions in both Artistic and Rhythmic gymnastics since the turn of the century.
This table illustrates a clear gap between male and female peak ages in gymnastics and partially explains the difference in retirement ages between the genders. Sports Scientists point to the differences in human physiology between males and females. Females usually develop earlier than their male counterparts and therefore reach their physical peak sooner.
Women's Gymnastics also places more focus on flexibility (this applies to both Artistic and Rhythmic) which gets harder to maintain as the body gets older. Whilst men still require a good range of motion in their bodies, there is less emphasis on flexibility requirements such as splits and leaps within routines.
Oksana Chusovitina is a huge exception to the rules when it comes to retiring early. The 2020 Tokyo Olympics was her 8th games, setting the record as the oldest-ever gymnast at aged 46!
Chusovitina is now a vault specialist and does not compete on other apparatus. This allows her to focus on just one element, reducing her training load and managing her conditioning more effectively. By concentrating on the vault she no longer worries about bars, beam or floor exercise. 
Retirement Ages of 2004 Olympic Gymnasts
To find out when gymnasts retire here is an in-depth look at every medal-winning gymnast at the 2004 Athens Olympics. The medals could have been won as either an individual or as part of the team event. Tables are separated by discipline to help identify any differences between the types of gymnastics performed.
Womens Artistic Medal Winners
With only one gymnast still competing in her 30s, this table highlights the trend for female gymnasts to retire early in comparison with other sports. Women's Artistic gymnasts also have a significantly lower average retirement age than their male counterparts. Whilst this is only a snapshot, it shows that many of the successful Romanian gymnasts retired in their teens after having won team gold (Ponor being the exception). Carly Patterson also retired at 18 having won the individual all-around gold however her decision was also due to ongoing injuries.
Oksana Chusovitina did not medal at the 2004 Olympics but did compete, placing a disappointing 23rd on Vault. The Uzbekistani gymnast broke the mold of young gymnasts by still competing at the age of 46 in the 2020 Tokyo Olympics!
Mens Artistic Medal Winners
The youngest Men's Artistic gymnast from 2004 retired at the age of 24 which in the female category would be considered 'old'. 14 out of the 28 medal winners still competed into their 30s whilst only one of the women's category did the same.
A number of male gymnasts, notably Dragulescu, Yovchev and Chechi announced retirements earlier in their careers only to come back out of retirement and compete at a high level once again. Understandably they would tend to narrow down their training to one or two specialist apparatus. Dragulescu for example only concentrated on Vault and Floor Excercise in the latter part of his career.
Rhythmic Gymnastics Medal Winners
The youngest retirements of all disciplines from 2004 were the Rhythmic gymnasts. If you are unfamiliar with Rhythmic, it's only competed by females and involves floor exercise routines with hoops, balls and rope. The focus is very much on elegance and flexibility rather than the power and strength needed for artistic gymnastics.
Flexibility is harder to maintain as you get older, and is a major factor in the retirement age of rhythmic gymnasts.
Famous gymnasts (when and why they retired)
Carly PATERSON – Aged 18 (back problems). This US gymnast won the All-Around Gold at the 2004 Athens Olympics but was forced to retire through injury just two years later.
Nile WILSON – Aged 24 (Neck injury). Nile failed to recover from a bulged disc in his neck. He had surgery but announced his retirement just six months before the Tokyo Olympics.
Jordyn WIEBER – Aged 19 (Personal reasons). Jordyn was a member of the 'famous five' that won all-around team gold at the London 2012 Olympics.
McKayla MARONEY – Aged 21 (culmination of injuries). Another member of the 'famous five' suffered various injuries including a fractured fibula and issues with her knee that required surgery.
Examples are plentiful with regard to when and why elite gymnasts retired.
Do lower-level gymnasts also retire early?
When I refer to lower-level gymnasts this could mean those that are recreational level or even compete up to a regional level. Typically recreational gymnastics has an earlier dropout age than those aspiring to reach a high competitive level. The term 'retire' isn't really appropriate here as children and teenagers may simply be switching between sports or hobbies and haven't had to commit to any great degree of training. It's common to see this level of gymnasts drop out as they approach their teenage years and other life interests take over.
At a lower level, we should also consider the competitive gymnasts that have trained to an elite level nationally but don't quite make the grade at Olympic or World level. Many will 'retire' as dreams of international stardom fade due to injury, educational pressures, or simply not having the ability to stay competitive at the highest level. Many gymnasts that fit this description will disappear from the scene in their teenage years.
What do gymnasts do after they retire?
Many gymnasts that still have a passion for the sport when they retire from training will turn to coaching. This is a great way to pass on the knowledge gained from years of training to the next generation. It should be noted though that great gymnasts don't always make great coaches. Likewise some of the top coaches in the world today were frustrated performers that didn't reach the top as an athlete.
A handful of high-profile gymnasts can stay in the public eye on TV shows such as Dancing With The Stars (Simone Biles, Ally Raisman), Dancing on Ice (Beth Tweddle, Amy Tinkler), and Strictly Come Dancing (Louis Smith). Gymnastics in the US receives a high level of publicity and ex-gymnasts are often in demand.
Some ex-gymnasts leave the sport completely and find themselves in brand new industries. For example Kerri Strug (1996 Olympics – Teacher then Politician), Amy Chow (2000 Olympics -Doctor), Ross Brewer (Double Commonwealth Games gold medallist – Accountant).
I go into more detail about what gymnasts do after they retire in this article here.
Final Thoughts
Ultimately, elite gymnasts will continue until their bodies can no longer handle the high demands of training or other interests become more important. This is the same the world over for athletes in all sports however, the unique pressures of gymnastics and the early start to training continue to impact the relatively young retirement ages.
Thankfully recreational gymnastics is still a sport enjoyed by all ages and many ex-gymnasts continue to keep up with low levels of enjoyable training to keep fit and stay mentally strong. Despite what people say, you can start gymnastics at any age either at home or at a professional gym facility (I always recommend the latter).
Sources
AGE TRENDS IN ARTISTIC GYMNASTIC ACROSS WORLD CHAMPIONSHIPS AND THE OLYMPIC GAMES FROM 2003 TO 2016 Atikovic et al
JOURNAL OF COMPARATIVE RESEARCH IN
ANTHROPOLOGY AND SOCIOLOGY – Mara Stan
Latest Articles