One crucial aspect of gymnastics is the apparel worn by athletes, and in particular, the choice of gymnastics shorts. Gymnastics shorts are designed to provide comfort, flexibility, and support while allowing gymnasts to showcase their skills.
In this article, we will explore the best gymnastics shorts available in 2023, taking into account factors such as comfort, durability, fit, and style.
Table of Contents
Introduction to Gymnastics Shorts
Gymnastics shorts are specially designed athletic shorts that offer optimal performance for gymnasts. These shorts are typically made from lightweight and stretchable fabrics, allowing gymnasts to move freely during their routines. Gymnastics shorts are available in various styles, including compression shorts, boy shorts, and bike shorts, each offering different levels of coverage and support.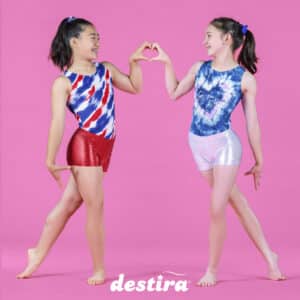 Importance of Choosing the Right Gymnastics Shorts
Choosing the right gymnastics shorts is essential for gymnasts to perform at their best. Ill-fitting or uncomfortable shorts can restrict movement, cause distractions, and even lead to injuries. The right pair of gymnastics shorts should provide the necessary support, flexibility, and comfort required for the rigorous movements involved in gymnastics routines.
Factors to Consider When Buying Gymnastics Shorts
When purchasing gymnastics shorts, several factors should be taken into consideration to ensure the best choice for individual athletes. These factors include:
Comfort and Mobility
Comfort and mobility are paramount when selecting gymnastics shorts. The shorts should allow for a full range of motion, ensuring unrestricted movements during routines. Look for shorts that have stretchable fabric, flatlock seams to prevent chafing, and a snug yet comfortable fit.
Fabric and Durability
The fabric of gymnastics shorts should be lightweight, breathable, and moisture-wicking. This helps in maintaining a cool and dry feeling during intense workouts. Additionally, the shorts should be durable enough to withstand the rigors of gymnastics training without losing shape or color.
Fit and Size
Proper fit and size are crucial for gymnastics shorts. Ill-fitting shorts can lead to discomfort and hinder performance. It is important to refer to the size chart provided by the manufacturer and choose the size that aligns with the athlete's measurements. Look for adjustable waistbands or drawstrings for a customized fit.
Gymnastics shorts have to be tight fitting as loose clothing will get in the way and cause a safety issue for coaches trying to spot gymnasts as they perform.
Design and Style
While functionality is key, the design and style of gymnastics shorts also play a role in the athlete's confidence and performance. Choose shorts that match personal preferences and reflect individual styles. Consider factors such as length, color, patterns, and any additional design features.
Best Gymnastics Shorts for 2023
Here are the best picks for gymnastics shorts based on comfort, style, durability and price.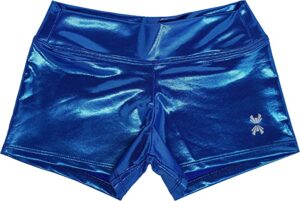 These shorts not only offer style but also provide exceptional comfort, making them perfect for active young gymnasts. They also represent excellent value for money which is why they are my best overall pick for gymnastics shorts.
These shorts are made from a super-soft and hypoallergenic material that feels gentle against the skin. Gymnasts will find them extremely comfortable to wear, even during rigorous practice sessions. The fabric is also washable, which is a bonus for parents who value convenience.
United All Around offers a wide range of design options to suit different preferences. Whether your little one loves vibrant colors or prefers a more subtle look, you can find the perfect pair among the various color choices available, including black, white, red, and pink. These stylish choices allow your child to express their personality while feeling confident and fashionable.
Promotes Freedom of Movement: As a parent, I value the importance of unrestricted movement during physical activities. United All Around Mystique gymnastics shorts are designed to promote freedom of movement, making them ideal for gymnastics, dancing, and other active pursuits. The shorts provide ample flexibility without compromising on comfort or style, ensuring that your little gymnast can perform their best without feeling restricted.
While these shorts are perfect for gymnastics, they are versatile and stylish enough to be used for other activities as well. The versatility of these shorts makes them a great addition to any active child's wardrobe.
United All Around stands behind its product with a 100% satisfaction guarantee. If, by any chance, you are not completely thrilled with these shorts, the company promises to issue a full refund. This kind of assurance demonstrates their commitment to customer satisfaction and adds an extra layer of confidence in purchasing their products.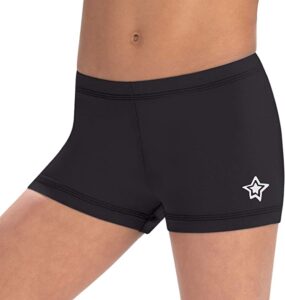 When it comes to finding the perfect pair of gymnastics shorts, GK Elite has always been a trusted name in the industry.
One of the first things that impressed me about GK Elite Gymnastics Shorts is their sleek and stylish design. The attention to detail in the design is evident, with the GK Elite logo tastefully placed on the front. Black shorts will go with any color leotard, but if you're not sure check out my guide to the best leotards and shorts sets.
In terms of fit, these shorts are superb. The elastic waistband ensures a secure and comfortable fit, without feeling restrictive during movements. The length is just right, providing adequate coverage while allowing for unrestricted leg movement. Whether you're practicing your routines or competing on the floor, these shorts won't let you down.
There is a wide range of sizes starting from toddlers through to 14 years old.
The choice of material is crucial for gymnastics shorts, as it directly impacts both performance and durability. GK Elite Spandex Shorts are crafted from 80% Nylon and 20% Spandex which is pretty standard for these types of shorts. The materials used are breathable and moisture-wicking, keeping you cool and dry even during intense workouts. You will find that the shorts maintain their shape and color even after multiple washes, a testament to their durability. Be sure to follow the washing instructions carefully though.
When it comes to gymnastics, flexibility is key. The GK shorts excel in this department, providing exceptional freedom of movement. The stretchy fabric allows for a full range of motion, whether you're performing splits, leaps, or tumbling passes.
These GK can be found on Amazon though they do have a wider range of styles and colors on their main website.
When it comes to combining style and performance, Destira has always been a top brand making them my top pick for premium gymnastics shorts.
The first thing that caught my attention about the Destira Mystique Silver Gymnastics Shorts is the stunning design. The silver mystique fabric is mesmerizing, reflecting light with a subtle shimmer that adds a touch of elegance to your gymnastics leotard. These shorts are perfect for gymnasts who want to stand out and make a statement in the gym or during competitions.
The fit of gymnastics shorts plays a crucial role in both comfort and performance. Destira Mystique Silver Gymnastics Shorts excel in this department. The elastic waistband provides a secure and adjustable fit, ensuring that the shorts stay in place during your routines.
One of the worst things that can happen to a gymnast is when the shorts ride up and they have to keep adjusting them. In training it becomes annoying but in the middle of a competition routine, it's a disaster! I'm glad to say that this isn't usually a problem for girls that I see wearing Destira gymnastics shorts.
Silver is my favorite pick because it will go with most leotards but the Mystique range is also available in pink, red, blue, black and other colors. All sizes are covered from toddlers through to Adult XL.
The Destira brand is known for its quality, and the Mystique Silver Gymnastics Shorts are no exception.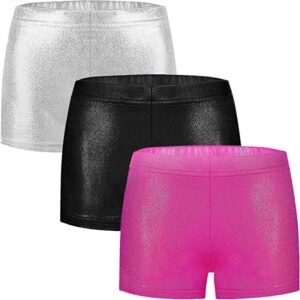 At under $15 on Amazon, these BYONEME gymnastics shorts are great value for money. You may be worried that the lower price will mean the quality isn't as good however, that's not not the case.
The fabric is still tight fitting and the elastic keeps the waistband in place even during advanced tumbling, jumps, leaps and landings. Made from a mix of 92% polyester and 8% spandex it's stretchy but won't have the absolute premium feel of a brand like Destira. But if you're paying less than half of the price something has to give.
There is a huge color range meaning you should be able to find a pair of shorts that match any leotard already in the wardrobe.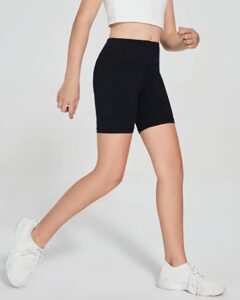 If your daughter is looking for shorts that are longer in the leg than traditional gymnastics shorts, these Devoropa compression shorts could be for you.
Also referred to as volleyball or bike shorts they are made of 80% Nylon and 20% Spandex just like other picks in this article. That means they stay tight-fitting but also allow for a full range of motion including in positions such as splits or squats.
Some girls will feel more comfortable with more leg coverage and most gym clubs and coaches will be fine with that especially as the sport is generally having a more progressive attitude towards leotards and shorts. However, these types of shorts are not usually worn in competition and you should still check with your coach that these types of shorts are OK.
Who knows, maybe in the future all gymnasts will wear these types of shorts!
Biketards are also becoming more popular and these shorts are basically the bottom half of a biketard.
How to Care for Gymnastics Shorts
Taking proper care of gymnastics shorts is essential for maintaining their performance and longevity. Follow these guidelines to ensure your shorts stay in optimal condition:
Washing and Drying Instructions:
Turn the shorts inside out before washing to protect the fabric and preserve the color.
Wash the shorts in cold water with a mild detergent, preferably on a gentle or delicate cycle.
Avoid using bleach or fabric softeners, as they can damage the fabric and affect the shorts' performance.
After washing, promptly remove the shorts from the washing machine to prevent wrinkling.
Air drying is recommended to maintain the shape and elasticity of the shorts. If using a dryer, select a low heat setting.
Storing and Maintenance Tips:
Fold the shorts neatly and store them in a clean and dry place, away from direct sunlight.
Avoid storing the shorts in a compressed or tight space, as this can cause wrinkles and affect the fabric's integrity.
Regularly inspect the shorts for any signs of wear and tear, such as loose seams or stretched elastic, and address them promptly.
If possible, designate a separate bag or compartment in your gym bag to keep the gymnastics shorts clean and protected.
Avoid exposing the shorts to rough surfaces or abrasive materials that could cause pilling or snagging.
By following these care instructions, you can ensure that your shorts maintain their performance, durability, and appearance over time.
Conclusion
Choosing the best gymnastics shorts for your training or competition needs is crucial for optimal performance and comfort. Consider factors such as comfort, mobility, fabric quality, fit, and style when making your selection.
Remember to care for your shorts properly by following the washing, drying, and storing guidelines to prolong their lifespan and maintain their performance.
FAQs (Frequently Asked Questions)
How often should I replace my gymnastics shorts?
It is recommended to replace your gymnastics shorts when they show signs of significant wear, such as stretched-out elastic, thinning fabric, or decreased support. On average, shorts can last several months to a year, depending on the frequency of use and care.
Can I use regular athletic shorts for gymnastics?
While regular athletic shorts may provide some level of comfort, they may not offer the same level of flexibility, support, and durability specifically designed for gymnastics. It is advisable to invest in gymnastics-specific shorts to ensure optimal performance and comfort.
Can I wear gymnastics shorts for other sports or activities?
Gymnastics shorts are designed with specific features to support the movements and requirements of gymnastics routines. However, they can be suitable for other activities that prioritize flexibility and comfort, such as dance, yoga, or cheerleading.
How can I determine the right size for gymnastics shorts?
Refer to the size chart provided by the manufacturer and take accurate measurements of your waist and hips. Consider both waist and hip measurements to ensure a proper fit. Additionally, read customer reviews for insights into sizing and consider contacting customer support for guidance if needed.
Are gymnastics shorts unisex?
Not usually. Male shorts are normally looser whereas female shorts are tight-fitting.